Rehearsals begin for The Wonder, Full World of Winter, the Spoon River College Community Chorus Winter Concert, on Thursday, September 14, at 6:30 p.m. at the First Christian Church, 215 W. Elm in Canton, Illinois.  Anyone with a love for singing and philanthropy may join the choir.  No auditions are required.
Rehearsals generally occur every Thursday from 6:30 – 9:00 p.m. Performances are December 2 at 7:00 p.m. and December 3 at 3:00 p.m. and 7:00 p.m.
This year's concert features an international theme focusing on the musical diversity in our world – past and present.  Director John L. Davis has selected a wide variety of songs representative of all genres and styles from around the globe.  Songs such as El Hambo (sung in Swedish), the Hebrew song Chanukah Prayer for Children, and Russia's The Sleigh will be featured along with The Place Where the Lost Things Go and Walking in the Air from Britain and so much more.
"In a divided world, music provides unity," artistic director Carol Davis said.  "Together we sing in unison, in harmony, and in languages beyond our own.  As Spoon River College supports diversity in education, the Chorus, a funding arm of the SRC Foundation, seeks to assist and sustain those from all backgrounds with our annual concerts and productions."
This year's concert also offers a bit of nostalgia from times gone by.  Recalling the days when families sat around the radio listening to Little Orphan Annie, Dimension X, Suspense, and The Lone Ranger, the Chorus offers a fun-filled re-creation of a 1940-50s style Radio program, complete with audience participation, commercials, and unusual sound effects.
"I was inspired by Radio Classics on Sirius XM to create our own radio show this year," says Carol Davis.  "I listen to Radio Classics (Channel 148) every day and the station has a Spoon River College connection.  For over 20 years, Greg Bell has served as host and program director of Radio Classics.  I had the pleasure of spending time with Greg when he came to visit his mother, Phyllis Hedden, who lives in Havana. Radio Classics could be considered a precursor to today's podcasts."
Ticket pre-sales begin October 1 and may be purchased through Chorus members only.  General public and online sales will begin October 15.  Information about tickets will be posted on the Chorus webpage www.src.edu/chorus and on Facebook.
As always, proceeds from the concert fund the SRC Community Chorus Scholarship program.  After the success of our 2023 summer shows, An Evening with Patsy Cline and 48 Hours, the Chorus fully funded its eighth named endowed scholarship in memory of past chorus member Craig M. Zilly.
For more information, visit the webpage or email srccommunitychorus@gmail.com.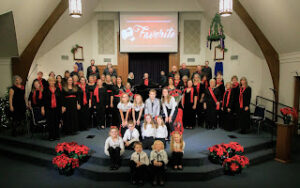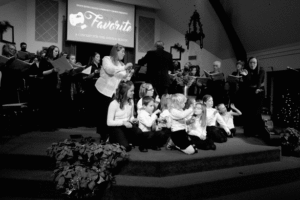 Photo Credit: 2022 Winter Chorus; Josh Larson