Spoon River College offers facility rentals at several of our locations.
Many of our rooms offer the latest in technology, presentation, and sound equipment! Our rooms are excellent for presentations, instructional classes, or meetings. Our larger ro​​oms are an excellent option for award banquets, large board meetings, or conferences.
Those interested in using one of our Centers must first fill out a Request for Use Form. Forms can be found on the right column of this page. By providing us with the information on this form, we can then determine how to best serve you or your organization. Upon receiving the completed form we will then determine the date availability and appropriate fees for your event. You will be contacted by our staff within 48 hours of us receiving the request for use form. A contract will then be provided to you for review. Space at the center is not officially reserved until a signed contract is on file from you.
Special Note… Priority at our Centers is given to business, workforce, economic development, training, or lifelong learning events related to the SRC Outreach Mission. Fundraising, Arts & Entertainment, and Social Events are generally limited to Spoon River College and outside events may be declined if considered outside the educational outreach centers' mission.
Our Centers Generally Book Events Such As:
Business Conventions
Educational Presentations/Classes
Board Meetings
Health Seminars
Employee Appreciation Luncheons
Award Receptions
Our Centers Generally Do NOT Book Events Such As:
Wedding Receptions
Social Events
Fundraisers
Potlucks
Showers or Parties
Prom or School Dances
SRC has the right to refuse any group for any reason.
Macomb Outreach Center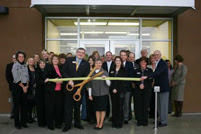 The Macomb Community Outreach Center includes six staff offices, three presentation classrooms, large lobby, kitchen, two computer labs, and a 225 capacity conference hall. Funding for these rooms has been provided by the Spoon River College Foundation, MidAmerica National Bank, Pella Rolscreen Foundation, and Grand Prairie Assisted Living.
MidAmerica National Bank Conference Hall Capacity of 225, flexible setup options, can be divided into 3 sections of 75, variety of microphones, 3 synchronized display screens, Bose Sound System, VHS/DVD player, and more…
Technology Enhanced Classrooms (3 classrooms, 2 computer labs) All rooms equipped with: internet access, computer station at lectern for presenter, LCD projector and screen, sound system, VHS/DVD player, and more…