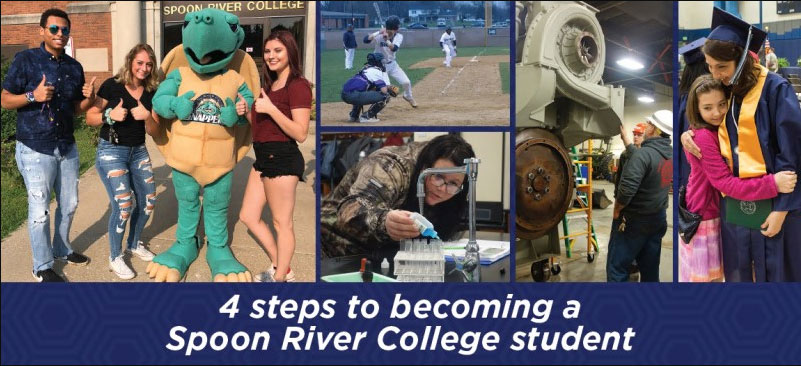 1. Apply
Complete a SRC Admissions Form
2. Assess
Testing and placement information can be found in our Testing area.
For placement, SRC accepts ACT, SAT, ACCUPLACER, and previous college course credit. SRC will also review your high school GPA and math courses to assist in placement determination.
The ACCUPLACER is offered at all four SRC sites. Students may go online and visit accuplacer.collegeboard.org/students for tools to assist them in preparing for the test.
3. Financial Aid
Apply at studentaid.gov early to ensure that your Free Application for Federal Student Aid (FAFSA) is processed prior to deadlines. Our School Code: 00164300. Reply promptly to requests for documentation from the Financial Aid Office.
Financial Aid Office contact information:
Canton: (309) 649-7030
Macomb: (309) 833-6073
4. Meet With Your Advisor & Register
Academic advisors are available for advising and registration appointments in person and by phone: Monday – Friday 8:30 am – 3:30 pm.
If you would like to schedule an appointment with an advisor, please fill out the Advisor Meeting Form below and be sure to specify the date and time you are requesting, along with your program of interest.
Please allow 1-2 business days for confirmation as your date and time is not guaranteed until the Student Services Office confirms your appointment.



If you have a question or concern, please contact:
Canton: (309) 649-6400
Macomb: (309) 833-6069
Havana: (309) 543-4413
Rushville: (217) 322-6060
Email: advisor@src.edu
Admissions Criteria
At Spoon River College we pride ourselves in a streamlined admissions process. However, depending on your status as a student you may have some additional steps to follow. Full admission will be granted to individuals who meet the following criteria:
Residents of Illinois Community College District 534 ( Verification of Residency​ Form)
Individuals who are 18 years of age or older​
High school graduates or GED equivalent
High School Students
High school students who are at least 16 years of age and who obtain prior approval from the cu​rrently enrolled high school, parent or guardian, and final approval from the SRC Dual Credit Coordinator. High school approval forms are available in Admissions and Records.
Connection with Secondary School Severed
Any person who is at least 16 years of age and has severed connections with a secondary school, as certified in writing by the chief officer of the secondary school district in which the person has residence.
GED Enrollees
Applicants enrolled in the GED program may be permitted to concurrently enroll in a career and technical class by permission of the Dean of Student Services.
Out-of-District or Out-of-State
Students who do not reside within District 534 may be admitted, but may be subject to higher tuition rates.
Re-admission
Returning students, after an absence of two academic calendar years, must complete the full admissions process to be re-admitted.
Transfer Students​
Academic credit is accepted only f​rom regionally accredited institutions.
All transfer credit will be equated to the credit hour system.​
All transcripts become the property of SRC and will not be returned or issued to another institution.
A student must have a current application on file and complete a Request for Transcript Evaluation form before the transcript will be evaluated and accepted.
International Students Admissions:
Please see the International Students Page​
Academic Amnesty – Fresh Start Admissions
Students who have had an unsuccessful academic experience at SRC and have not attended for one full semester may be eligible for academic amnesty. This program forgives past experiences with a fresh start toward success in completion of his/her educational goals. Eligible students should see an academic advisor for additional information.
Admission Denial
Spoon River College reserves the right to deny admission or re-enrollment to individuals who cannot benefit from the curriculum offered.
Academic Require​ments
In the fall of 1993, the Illinois Board of Higher Education established the following high school course distribution requirements for all students admitted to baccalaureate programs. Students wanting to transfer to a four-year college or university for a baccalaureate program should meet with their high school counselor to ensure they have satisfied all requirements. The requirements are as follows:
3 years of mathematics
3 years of social sciences
3 years of science (with laboratories)
2 years of foreign language, music or art
Open Admissions Policy
As an open admissions community college, high school students will be admitted to SRC without these courses. Students in certain programs may be required to take additional courses as prerequisites. All students seeking admission to Spoon River College must take the Accuplacer placement test or meet course placement requirements.
Program Admission Requirements
SRC Early Start SRC Early Start Program offers high school students an opportunity to earn college credits. High school students who meet the necessary requirements and course prerequisites may enroll in Spoon River College courses held on campus, at one of the college's extension sites, or at their high school. The determination of whether a college course is offered for high school credit is made according to the policies and practices of each secondary school district.
Diesel & Power Systems Technology (DTT) Admission to the DTT program is based on the date of receipt of the Spoon River College application form in the Admissions and Records Office. Applications are accepted beginning September 1 for the following year. To maintain their position on the admission list, students are expected to complete registration during the first two weeks of the early registration period held in April each year and to pay tuition and fees by the college's announced deadlines, usually in early August. At the time of registration, students are required to pay a security deposit of $100, and this deposit will be applied to tuition and fees. The $100 deposit will not be refunded to students who do not pay tuition by the college's deadline. A student who does not complete these steps will be dropped and the next person on the waiting list will be contacted for admission. Qualified students who are not admitted will be given top priority for the following fall semester if they reactivate their application by October 1 and follow the required steps of registration and payment of deposit, tuition, and fees as outlined above.
Nursing Program The Spoon River College Nursing Program has specific admission requirements, as well as a unique application process and deadlines.