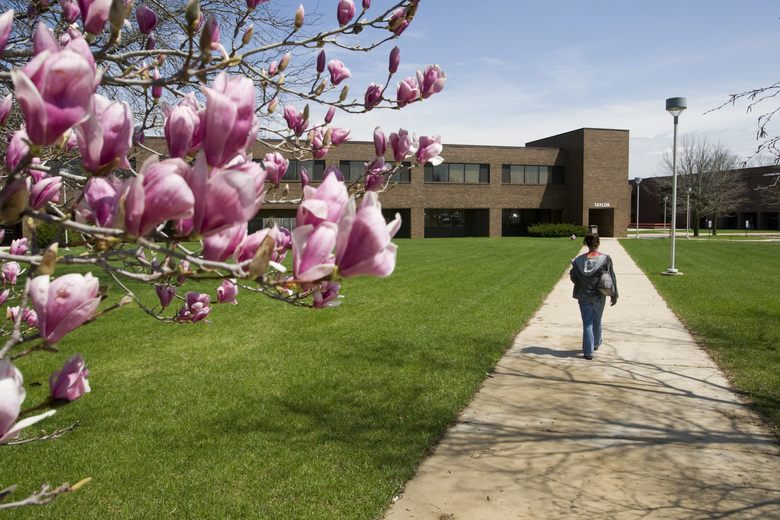 Contact Information:
International Student Advisor
(309) 833-6069
internationaladvisor@src.edu
Spoon River College extends admission privileges to international students defined as "a student whose legal residence is outside the U.S. or territories thereof". However, due to the complex nature of the International Students Application process it is important that applications and requests for information be completed and submitted at least sixty days prior to the start of classes. Please carefully read the information on these pages, as any deviation from this process may delay your application.
For additional information on How to Become an Academic Student in the United States, visit U.S. Citizenship and Immigration Services.
International Student Require​ments​​
If you are a first-time college student in the U.S., or if you have less than 15 semester hours of credit from a U.S. accredited college, please submit:
SRC Student Application completed accurately and signed by you.
Official secondary records with English translation attached, showing the completion of the equivalent of a high school diploma. The applicant will bear the cost of translation and determination of equivalency to the U.S. high school diploma. See www.wes.org​.
Proof of English proficiency (one of the following forwarded directly from the appropriate agency):
Minimum score of 65 on the computer-based TOEFL; OR minimum score of 6 on IELTS; OR minimum score of 90 on Duolingo.
Financial Support – Please follow instructions. You must submit the following documents to show financial support. Complete the printable financial forms as described in the instructions:​
Instructions for Processing I-20 Form – please read this document.
General Information
Official, certified, and complete academic records must be mailed to:
International Student Advisor
Spoon River College Macomb Campus
208 S. Johnson
Macomb, IL 61455
Transfer records should indicate all courses completed, marks and grades received, degrees, diplomas, or certificates awarded. External examination results, such as the General Certificate of Education, must be sent directly from the appropriate testing board or verified by your secondary school. Principal reports, student copies, and Photostat copies of any academic records will NOT be accepted.
Students who have completed college courses outside or within the U.S. and who wish to transfer this coursework to SRC must submit course descriptions, syllabi, and/or catalogs from the institutions attended in addition to official college transcripts. An evaluation of this post-secondary work will be made to determine transferability of credit and possible use toward graduation requirements. (Students transferring from Western Illinois University need to submit only an official transcript.)
English Proficiency
English proficiency – Proof of English proficiency must be forwarded directly from the appropriate agency (TOEFL, IELTS, or Duolingo).
English as a Second Language (ESL): ESL is a language program designed for adults, 16 years and older, whose native language is not English. The ESL program helps students improve their reading, writing, speaking and listening skills from literacy to the advanced level. These skills are necessary for success in the workplace, the community, and for future course work. Students improve English skills while also learning about American culture. Spoon River College offers ELS classes in Macomb and Rushville.
Before entry into the program, a student must obtain an English skills assessment for accurate placement. To schedule an assessment and register for the class please call the ESL Coordinator at (309) 833-6038.
Macomb ESL classes meet in the mornings from 9:00 a.m. – 12:00 p.m. on Monday and Wednesday. Rushville ESL classes meet in the mornings from 9:00 a.m. – 12:00 p.m. on Tuesday and Thursday. As with all our Adult Education Classes, ESL is offered free of charge.
Financial Affidavit: As a state-supported community college, Spoon River College cannot provide financial assistance for international students. Financial ability of the applicant must be documented in advance of the issuance of the I-20. The Financial Support Statement must be printed off and completed showing the applicant can be supported for the time it takes to complete the academic program at Spoon River College. The full amount of the upcoming semester's tuition must be paid at the time of registration. Tuition and fees are subject to change without notice.
Campus sites: Spoon River College offers classes on the Macomb and Canton campuses and the Havana and Rushville Centers
Housing: Housing is the responsibility of the student. Students on the Macomb Campus may arrange for room and board through the Western Illinois Student Residence Office.
Transportation: All transportation to the college is the responsibility of the student. Public transportation is available in Macomb through Go West.
Deadlines: To ensure college personnel has enough time to process first-time college applications and for you to obtain a visa, please submit your application and all required documents at least sixty days prior to the starting date of your classes.
Form I-20 Information
What Is a Form I-20 and Why Do You Need One?
The Form I-20 is a U.S. government form, but it can be issued only by specially-appointed school officials. It is not issued by the government; it is issued to the government by the school. It states that the student whose name is on the form has been accepted for a full course of study after applying to the school and submitting all required academic documentation. It also states that the school has seen documents proving that you have enough money to live and study in the U.S., without working with "no permission" or suffering from poverty. Without an I-20, it is not possible to obtain a student visa or keep lawful F-1 status when transferring from one school to another in the U.S. Transfer students do not have to receive our I-20 before coming to this school and attending classes. Though it is best to qualify for the I-20 as soon as possible, you will not need the form until the second week of classes, unless you wish to travel outside the U.S. before classes begin.
Students who are outside the U.S. should not worry about their visas at this time. Since you cannot get a visa without the I-20, your priority must be to provide us with the financial documentation we require before we will issue the form.
We are very strict about proof of financial ability. Too little money causes pain and distress for students. We insist that students and their families look closely at the cost of living and studying in the U.S. and make careful plans to be sure the student's needs are met. We also want to be sure that the requirements of the most demanding U.S. consuls are met so our students' visas will not be denied for financial reasons.
Does Everyone Need an I-20?
No, some foreign students do not need I-20's. If you are a dependent spouse or child in A, E, F-2, G, H-4, I, J-2, L-2, M-2, N, O-3, P-4 or TD status, neither the law nor the school requires you to have an I-20 or be in F-1 status to attend school full-time or part-time, as long as the principal continues in status. However, you cannot be a dependent child in E, F, H, I J, L, M, N, O, P, R, or S status after your 21st birthday or if you marry. Principals in A, E, G, H, I, L, O, P, Q, R, or S status may attend school without changing their status as long as their "principal activity" is not school. Persons in TPS status also may go to school. If you have no legal status, you may attend school, but you are not eligible to change status and do not need a Form I-20.
Getting Your I-20
Following are the 12 rules for issuance of a Form I-20 by Spoon River College. Read and follow them very carefully. If we say "no" to the papers you send, do not despair. Many students must submit papers two, three, or more times before giving us acceptable papers. Follow the rules carefully.
We will not discuss financial documents with sponsors or students. Papers must be submitted by mail or delivered and our responses will be in writing, by mail. Our decision will be made after looking at the documents with care and thought. All students are treated the same, whether they come from countries in which visas are "easy" or difficult to get. To the best of our ability, we try to see the documents as if we were particularly tough U.S. consuls. We have not helped a student by saying "yes" to financial papers if a consul later says "no" to the same papers. We have not supported the educational mission of our institution if we help a student come to the U.S. and fail because of insufficient money for tuition, books, or medical care, or to earn poor grades due to money worries or insufficient food.
Your sponsor's income is more important than your sponsor's bank statement. Do not expect bank statements to convince us of a sponsor's ability to give the amount of money promised. Bank statements are very poor evidence of the ability to give a student money, unless the balance is a very large one. Proof of a sponsor's income should be on the employer's letterhead, on income tax returns or receipts, or estimated by a bank or private accountant when the sponsor is a self-employed businessperson. The income of a company is not the income of the owner of the business and will not be accepted as proof of income. You must provide an official statement of the salary paid to the owner/sponsor.
We will not accept letters from banks or anyone else saying that a sponsor has enough money to support a student. Only this office can decide how much is enough. When a sponsor wishes to keep his bank balance or income private, we will accept official documents saying that the savings or income is "more than" an amount that is clearly sufficient.
All papers must be sent together. When partial documentation is received, it is returned to you. Families should designate one family member to collect all papers and submit them to us together.
Each sponsor must submit an affidavit stating exactly what is to be provided. All questions on affidavit forms must be answered. Affidavits must be signed by the sponsor in the presence of a Notary Public. The Notary Public must sign it and place their official seal on the affidavit. Affidavits that have been changed in any way will be rejected unless each change has been signed by both the sponsor and the Notary. There are Notary Publics at all U.S. embassies and consulates. In the U.S., most neighborhood pharmacists are Notaries, as are most lawyers and accountants. There are Notaries in all countries, though the names for them may be different. They are officials licensed by the national or regional government to take sworn statements for courts of law or to witness contracts and property deeds.
Sponsors should not promise too much money. Some sponsors believe that, the more money they promise, the more likely we are to say "yes". A common cause for rejection of documents is that we do not believe the sponsor can afford to give as much as promised. You should promise only what you intend to give and should give only as much as you can afford.
Do not submit old documents. Both the U.S. government and Spoon River College require recent documents (less than six months old).
Do not send faxes or copies. Except tax documents, leases, and deeds, all papers must be originals. Copies are rejected and returned. Originals will be attached to I-20's issued for visa applications and returned to students who are outside the U.S.
Every dollar of needed support must be proven through student bank statements, proof of the sponsor's income, or a lease or deed. Each dollar not provided by the student personally, must be promised in an affidavit by a sponsor. We do not care how many sponsors there are, whether or not they are U.S. citizens, or where they live. It is usually easier to get an F-1 visa when at least part of a student's support comes from outside the U.S.
Students can sponsor themselves either partly or in full. No affidavits are needed for the student's own money. Recent bank statements in the student's name must be provided, and statements from at least a year earlier to show us that the money was not borrowed and recently deposited. Remember, however, that the law requires financial support for your entire program in addition to readily available cash for the first year. Unless you have enough cash to support yourself and your studies in the U.S. for your entire program, your cash will soon be used up. You will probably need a sponsor with an income to show that you can finance the entire educational program.
Scholarships may be used to qualify for Form I-20. We must have an award letter from the private or government scholarship board stating how much money is to be given and for how many years.
Free room and board is worth the dollar amount in the student budget. When a family member near the school gives a student a free place to live and/or free meals, the student needs far less in cash from other sponsors. Affidavits of free room and board must be sent with a copy of the property deed or rental lease. Such affidavits will not be accepted if the place to live is too small or too far from school.