Net Price Calculator
Mission Statement: The Financial Aid Office at the College is committed to educating students and families about the resources available to help fund their education and guide them through the process from application to payment of aid each year.
Thank you for visiting the Financial Aid webpage for Spoon River College (SRC). SRC participates in federal and State programs to assist students in meeting the costs of higher education. Financial assistance is available in the form of grants, scholarships, work opportunities, and loans. Click on the Net Price Calculator to determine your estimated family contribution and net price of attendance. Many of SRC's students live at home with their parents, reducing their cost to attend college by about $6,000 per year.
Apply early to ensure that your Free Application for Federal Student Aid (FAFSA) is processed prior to the published deadlines. Funding is limited and application deadlines may be adjusted by the State of Illinois.
Spoon River College School Code for all locations (Canton, Macomb, Havana, & Rushville): 001643
Upcoming Events
We will schedule high school visits again for Fall 2022. If you need assistance filing a FAFSA, you may contact our office at (309)649-7030. We will help answer your questions over the phone. You may also stop by our Canton or Macomb office with your tax information and we will assist you with the application process.
Watch this short video on how to create your FSA ID before attending an event: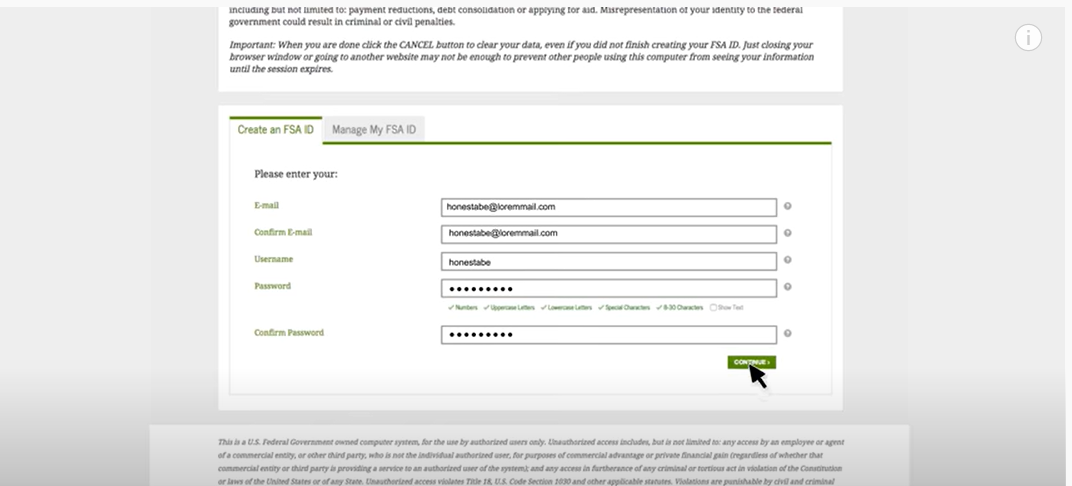 Student Loan Borrowers
Student loan borrowers remember that you MUST complete Loan Entrance Counseling and sign a Master Promissory Note at Federal Student Aid website. You login with your Department of Education issued FSA ID (Federal Student Aid ID). Please list Spoon River College as the school to receive notification that you have completed the counseling. More information and directions on how to apply for a loan are located on our Direct Loans page.
Completing a FAFSA
You can complete a FAFSA anywhere you have access to a computer and the internet. FAFSAs are completed on-line at the FASFA website.
What you need to complete a FAFSA: Your Department of Education issued FSA ID (username and password) and your tax information, including taxes and all W2s. We recommend that you use the IRS DRT (IRS Data Retrieval Tool) to import your tax information directly from the IRS. If selected for verification later, this reduces the paperwork you will need to submit.
2022-2023 FAFSA Application availability: October 1, 2021 at FASFA. You must use 2020 income information to complete the new FAFSA. We encourage all students to apply early as State funding is limited. Returning students (those receiving MAP funding for the current year), you need to apply on or before December 1, 2021 to receive priority access to appropriated MAP funds.
2023-2024 FAFSA Application availability: October 1, 2022 at FASFA . You must use 2021 income information to complete the new FAFSA. We encourage all students to apply early as State funding is limited. Remember, you must REAPPLY every year! Last year Returning students needed to apply on or before December 1 to receive priority access to appropriated MAP funds. Plan to apply early again for 2023-2024! As you file your 2021 taxes, make sure to keep a copy of your tax return, any schedules and all W2s so you are prepared to file your FAFSA!
2022-2023 Aid Processing
We are mailing letters requesting needed information for the 2022-2023 processing year as we continue to receive FAFSAs for new and returning students. Please login to My SRC and select the Paying for College link on the Student Tab. You will find a link to Financial Aid Documents Needed. Make sure you have selected 2022-2023 as the award year. This will display a list of any forms needed and some informational items that you need to read. Please print your needed forms, fill them out completely and turn them in to our offices for processing. Don't forget those signatures! All forms must be submitted and accepted by our office before processing can continue! If you have questions, please come see us or give us a call! We are here to help YOU!
Respond quickly and ask questions. If you have all needed forms to our office by the priority processing deadline listed below, we will guarantee to have your aid in place by the tuition deadline. We continue to process aid all throughout the year. Forms are processed according to the date received in our offices.
Priority Processing Deadlines
FALL 2022 – June 15, 2022
SPRING 2023 – November 1, 2022
SUMMER 2023 – April 1, 2023
2023-2024 AID PROCESSING
We are currently helping students complete the 2023-2024 FAFSA. If you would like help filing, bring your 2021 income information and all W2s with you to our office. We have a computer where you can file and we will be here to help! Have questions or just unsure of how to proceed? Give us a call at 309.649.7030 or stop by one of our offices. We are here to help you!
The Financial Aid Office cannot guarantee that financial aid will be in place by the tuition due date if you do not submit all requested information and supplemental forms by the priority processing deadlines. The Financial Aid Office will continue processing applications after the priority processing deadline but, cannot guarantee that aid for forms received after the deadline will be in place by the tuition due date. In order to ensure classes will be secured, students may set-up a payment plan through Payment Portal by Nelnet by accessing their My SRC account.​
CANTON:
23235 N COUNTY HIGHWAY 22
CANTON IL 61520
Phone: (309) 649-7030
Fax: (309) 649-6393
Jo Branson, Financial Aid Director/Veteran School Certifying Official
Charlie Cox, Financial Aid Coordinator/Veteran School Certifying Official
Denise Harrington, Financial Aid Office Assistant
MACOMB:
208 S JOHNSON ST
MACOMB IL 61455
Phone: (309) 833-6073
Fax: (309) 833-6062
Nikki Rittenhouse, Financial Aid Coordinator
Joseph Shelko, Financial Aid/Veteran's Specialist
If you have questions or comments related to financial aid please feel free to contact a representative in person, by phone, Monday-Friday 8:00 a.m. – 3:30 p.m. or by e-mail at financialaid@src.edu.