2022 – 2023 Season
For the Fall production of the 2022-23 season, SRC Theatre presents William Shakespeare's comedy Much Ado About Nothing. This play of love gone right, then wrong, then right again will please fans of romantic comedies everywhere. Performances of Much Ado About Nothing will run November 4 & 5 at 7:00 p.m. and November 6 at 2:00 p.m. in the Taylor Hall Theatre on the SRC Canton Campus.
Tickets can be purchased by:
Calling 309-649-6257 and reserving tickets by phone.
SRC Theatre Tickets via the Box Office – You can buy tickets, if available, in-person directly from the theatre's box office. The box office will be open ½ hour prior to the start time of the show.
Tickets are $15 each.
Information about the Spring 2023 production TBA!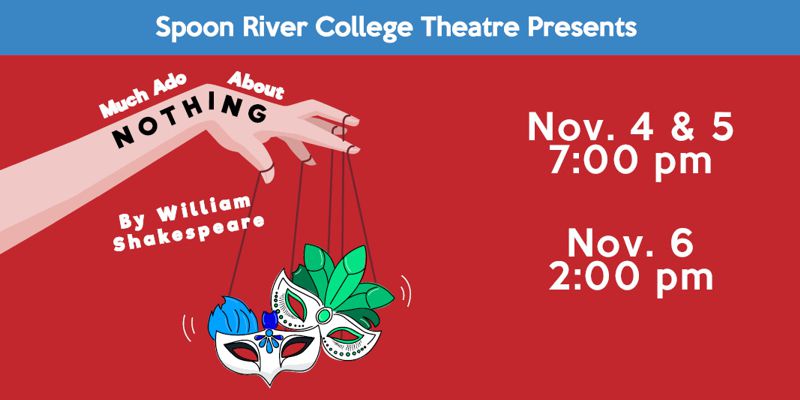 Spring 2021 Video Production of Trifles
For the 2021 Spring semester production, SRC Theatre presented the 1916 one-act drama Trifles by Susan Glaspell. To comply fully with pandemic restrictions and for the safety of our company members, the play was rehearsed and shot in March and April with each actor alone on our Taylor Hall Theatre stage. Then the raw footage was edited to create the video we have linked below. Please enjoy this production and consider a donation to our program fund; details are available after the end credits.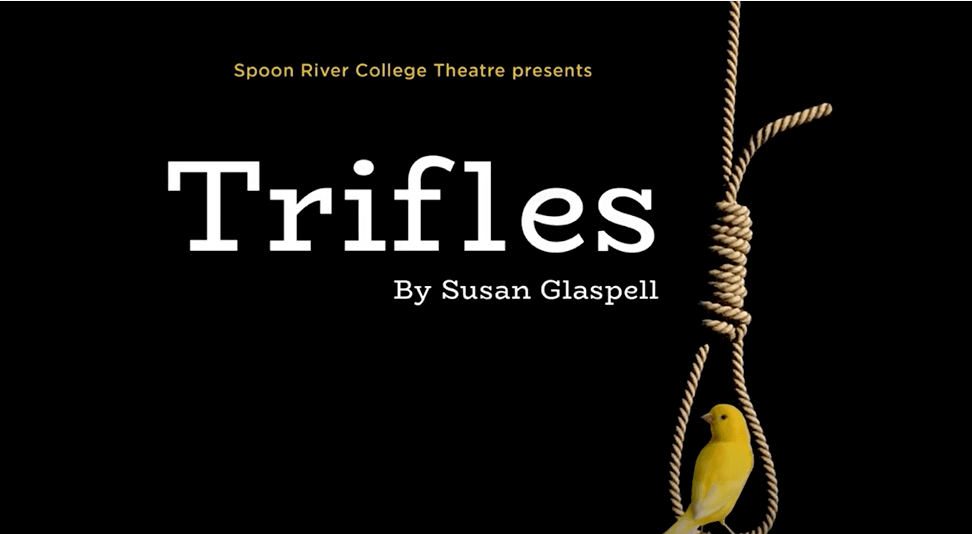 SRC Drama Program
The SRC Drama Program has an academic curriculum that includes acting courses as well as drama-oriented classes for humanities and fine-arts credit. Each academic year, student-centered performance opportunities are available with planned productions in both fall and spring semesters. The Drama Program offers performing grants (scholarships) to recognize and reward the work of talented students.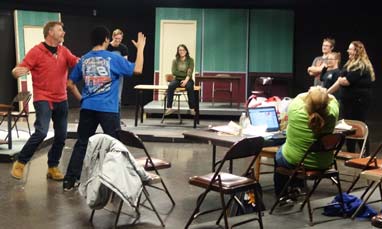 In the academic year 2015-16, the student organization STAGE: SRC Theatre Artists Group for Education was created. The group has as its advisor SRC drama and English instructor Douglas Okey. STAGE provides support and awareness for the program as well as a pool of interested and talented students to participate in theatre productions.
The SRC Drama Program has produced graduates who have gone onto careers in performance, including TV and film actor David Pires and, most recently, New York stage performer Kyle Motsinger. A student from the 1990s, Jacob Welch, is a theatre professor and award-winning lighting designer.
In the years since founding director Bob Gorg retired in 2008, the program has undergone various transitions. Most recently, in the 2013-14 academic year, the program had been in hiatus for the purpose of rebuilding. During that year, our "black-box" theatre production space was extensively renovated and updated through the expert consultation of SRC graduate Jacob Welch.
For more information about upcoming productions and opportunities in the SRC Drama Program, contact Douglas Okey at (309) 649-6308 or douglas.okey@src.edu. Click here for a printable brochure with information about the SRC Drama Program and student organization STAGE.