9/27/2022
​Spoon River College hosted a Wellness Fair for students at the Macomb Campus on Tuesday, September 20, and at the Canton Campus on Wednesday, September 21, with representatives from a number of local agencies on hand to provide health information and free items to students.
Students had the opportunity to sign up for a wellness basket, and Katie Langeland was the winner in Macomb, while Lacee Atterberry took home the prize on the Canton Campus, with some of the items included being donated by Canton Park District and Health and Wellness Connection of Fulton County. The YMCA donated a free membership, which was won by Iyanuoluwa Olalere of Springfield, and free refreshments were provided by the Spoon River College HEAL Student Association (Healthcare Enthusiasts and Leaders).
Community agencies attending in Canton were Canton Park District, Fulton County Health Department – Carolyn Adams Ticket for the Cure and Women's Health, Fulton-Mason Crisis Service, Graham Health Systems Convenient Care, Health and Wellness Connection of Fulton County, OUT (LGBTQ+ support group), WIRC Victim Services, and the YMCA. Spoon River College clubs represented were HEAL Student Association, SRC Athletics, SRC Student Needs Committee, and SRC Veterans' Services.
The event was sponsored by HEAL Student Association, LRC Food pantry, and SRC Student Retention.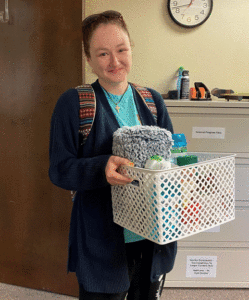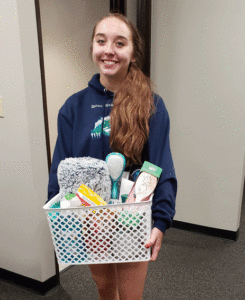 Katie Langeland: Macomb                                                     Lacee Atterberry: Canton