An Alanis Morrisette music CD, a disposable razor, and a blood pressure cuff. A license plate personalized with "POPROX 8" and an old cell phone. A Pizza Hut menu, a roll of print film, and an old YMCA shirt.  A condom and a pack of Camel cigarettes.
These were some of the items in a time capsule buried 20 years ago by Spoon River College students who were in the Introduction to Cultural Anthropology class taught by sociology faculty Michael Maher.
"I was in my third year of teaching when I had this group of students, and it was the first time that I taught the Introduction to Cultural Anthropology," Maher said. "This class became special to me. They were engaged, interested, funny yet serious, and just overall a great group of people. I wanted to celebrate them, and I wanted to create an excuse to reunite with them in twenty years."
Students as well as a few faculty members brought in various objects. As a class they went to the SRC Arboretum and buried the plastic wrapped items in a tote. Also included were copies of a list of questions—such as what would the price of a Big Mac be as well as where each student saw themselves in twenty years—and the answers predicted by each student. A date was set for 20 years in the future when they would meet again to unearth their time capsule.
Earlier this summer, they did just that, joined by several former and current staff and faculty.
While not all of the former students were able to attend, those who did enjoyed reminiscing about the class and discussing the changes over the past two decades. They also laughed over how accurate—or inaccurate—the predications for their own futures had been, especially when it came to the number of children they expected to have and their careers.
"I've had several cohorts of students during my teaching career who stand out, but this cohort was the first, and getting the opportunity to visit with some of them and even just make email contact with others was incredibly gratifying."
More pictures of the Time Capsule Project can be viewed on the Spoon River College Facebook page.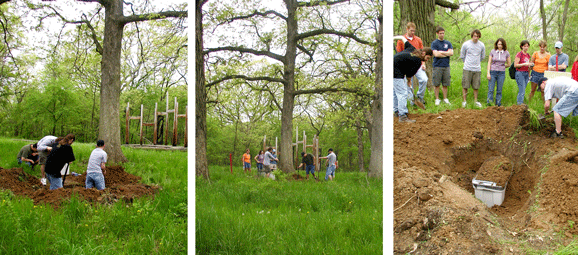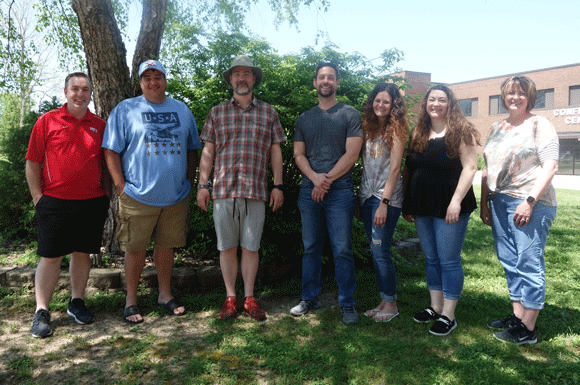 Past students who attended the Time Capsule Project Reunion were (l-r) Derek Grove, Craig Overcash, Michael Maher, Nathan Gardner, Mandy Zink (Manock), Angie Rabe (Erickson), and Jenny Zimmerman (Beatty).