Comments Off

on Spoon River College Hosts 10th Grade Career Expos
Approximately 175 sophomores from district high schools attended the 10th Grade Career Expos held at Spoon River College campuses in Canton and Macomb where career professionals gave them a close-up look at their respective occupations.
"We had a range of careers fields from art to wildlife, and the businesses found interactive and engaging ways of capturing the students' attention while also providing an overview of the work involved in their professions," said Brandi Ketcham, student advisor at Spoon River College and organizer for the Canton event.
Four separate career clusters were represented: Health Care Professionals; Education/Human and Public Services; Arts/Communication, IT, and Business; and Agriculture/Food/Natural Resources and Manufacturing, and Engineering/Logistics.
The goal was to not only show students the wide range of career fields available to them, but to also allow them the opportunity to see what they are drawn to. Students had the chance to try their hand at welding, see themselves on thermal cameras, practice laparoscopic surgery, pitch a business plan, and more. They also received information on the skills and education needed for similar careers.
Students commented that the event had introduced them to careers they had either never heard of or considered before, and that the information they received as well as the hands-on component would be helpful as they decide on career paths.
Patrick Denecke, student advisor and event organizer on the Macomb Campus, likes hearing that kind of feedback. "As sophomores, many are still undecided about what they want to do after high school. This event gives them an opportunity to explore a variety of careers and the education and training needed for them, which helps them better prepare for the classes they will take in the last two years of high school and after they graduate."
High school students from Astoria, Bushnell Prairie City, Cuba, Farmington, Lewistown, Macomb, Spoon River Valley, and West Prairie were in attendance. Pictures of the event can be viewed on the Spoon River College Facebook page.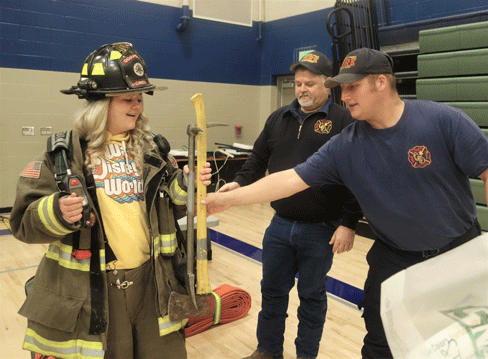 How much does all that fire firefighting gear weigh? Quite a bit, as high school students who attended the 10th Grade Career Expo at Spoon River College found out thanks to members of the Copperas Creek Fire Protection District.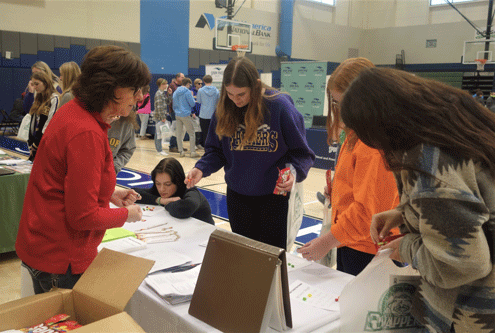 Elaine Stone from the Fulton County Farm Bureau promoted agricultural careers at the 10th Grade Career Expo by having students play Ag Careers Bingo.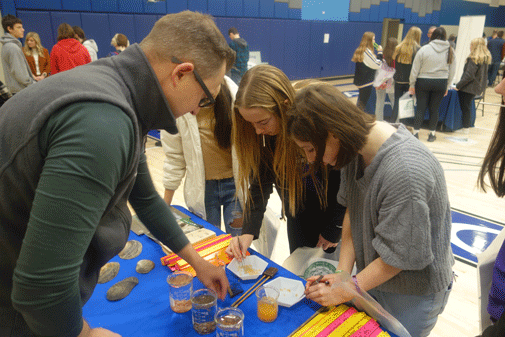 While a career in a fish hatchery might not be front of mind for students searching for their future career path, those attending the 10th Grade Career Expo at Spoon River College in Canton were fascinated by the tiny fish eggs (and tiny fish) on display, and surprised at the skill necessary to move the eggs when needed.
Businesses attending were Advanced Rehab and Medicine, Barnhart, Tinsman and Associates, LTD, 94.1 BYS, Canton Park District, Canton Police Department, Carl Sandburg College (Dental Hygiene, Imaging), Carthage Veterinary Service, Catch A Star (Daycare), Cook, Inc., Copperas Creek Fire Protection, Corteva Agri Science, Counseling Cares (Therapist), Dot Foods, Inc., Fulton County Emergency Medical Association, Fulton-Mason Crisis Service, Fulfill Your Destiny Coaching, Fulton County Farm Bureau, Graham Health System (Human Resources, Laboratory, Pharmacist, Physician, Physical Therapy, Nurse Practitioner, Radiology), Illinois State Museum-Dickson Mounds, Jake Wolf Memorial Fish Hatchery, Macomb Fire Department, Macomb Police Department, Martin Tractor, Inc., McDonough District Hospital (Medical Lab Technician), McDonough Telephone Cooperative, MidAmerica National Bank, ONEFIRE, Inc., Q 98.1, Spoon River College (Agriculture, Commercial Driver Training, Computer Information Systems, Diesel and Power Systems Technology, Health and Information Management, Logistics and Supply Chain Management, Nursing, Welding), University of Illinois Extension, VIT Education, Western Illinois University (Agriculture, Audiology, Dietician, Exercise Science, Hospitality, Pathology, Movement and Stage Combat, Supply Chain Management), and YWCA, Canton.