For its 2022-2023 season, the SRC Community Chorus presents A Season for All Generations.  Celebrating a love of live performance, this season brings together generations of experienced performers, skilled directors, and emerging talents for three separate offerings.
The season begins with The Best of Barry Cloyd for one performance only on October 23, 2022 at 3:00 p.m. in the SRC Theatre. Internationally award-winning singer/songwriter Barry Cloyd captivates and educates his audiences by blending period music with historical storytelling.  This show features segments from his most popular shows.  For every adult with a paid ticket, one child/youth/student under 18 receives a complimentary ticket.  Tickets go on sale September 19.
Our Favorite Things:  A Concert for the Winter Season, directed by John L. Davis, runs December 3 at 7:00 p.m. and December 4, 2022, at 3:00 p.m. and 7:00 p.m. at the First Christian Church of Canton. This concert features secular, sacred, classical and Broadway musical numbers celebrating the holidays and the beauty of winter.  Anyone with a love of singing is welcome to participate.
"This year our concert will also celebrate the 120th birthday of Richard Rodgers with a special focus on his work The Sound of Music," said Carol Davis, Artistic Director. "Our members ages currently span from 18 to 87.  This year we will be adding a children's group to the concert and feature them in The Sound of Music segment as singers/performers.  We've also added a matinee on December 4 for those who prefer daytime performances."
Rehearsals for Our Favorite Things begin September 15.  To learn more about participation, please contact the Chorus at srccommunitychorus@gmail.com.
The Show of Shows Showcase June 2-4, 2023, completes the Chorus season.  The musical revue of Broadway numbers will be directed by Carol Davis.
Young emerging performers from 18-30 will be invited to participate in a performance workshop as well as perform in the staged showcase. Invited participants will receive personalized performance strategies from a panel of music directors, prepare their own special Broadway numbers from what they've learned, and receive constructive critiques for improvement from panelists. The Showcase enables these emerging future stars to work alongside seasoned community/professional performers and participate in musical numbers with them.
"Despite the challenges of the last two years, our Chorus continued to discover ways to produce concerts and shows," Davis said. "Our participants' dedication amazes me. We've noticed an increase in diversity and in age variety not only in our performers, but in our audiences.  This is vital for growth and sustainability in the arts and this year we celebrate. Our second overarching goal remains supporting student educational success through our Named Endowed Scholarship program."
"The SRC Community Chorus was established in 2005.  If the arts are to continue to thrive, it is vital that we reach out to all generations to develop new talents and new audiences.  We believe the multi-generational approach in our 2022-23 Season of Generations sets a solid foundation for years to come."
For more information, visit www.src.edu/chorus or email srccommunitychorus@gmail.com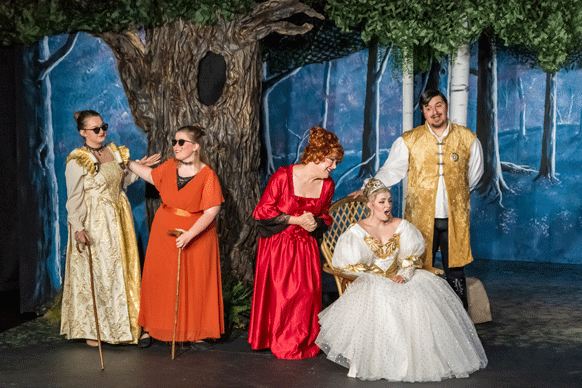 Photo Credit: Dave Barbknecht/Stilled Moments