11/13/2018
The Canton Community College/Spoon River College Alumni Association hosted their annual Alumni Association Awards Reception and Hall of Fame at the Canton Campus on Saturday, November 3.
Alumni Achievement Awards were presented to Matt Freeman, Samy Gonstal, and Kevin Noble.
Canton native Matt Freeman was recruited to play baseball at SRC after graduating high school, and graduated in 1997 with an Associate of Art degree. In 2001, he began working full-time with the Peoria Park District as their Recreation Coordinator at the RiverPlex Recreation and Wellness Center. Since then he has held the roles of Fitness Manager, Assistant General Manager, General Manager, and Supervisor of the RiverPlex. In 2015, Freeman was promoted to Superintendent of the Parks Division. Freeman is currently pursuing his M.P.A. from the U of I at Springfield. A member of the Peoria Urban Forestry Advisory Board, the Peoria Area Diversity in Employment Action Team, and the RiversEdge United Methodist Church, Freeman also coaches tee-ball for the Metamora Youth Sports Association and coached baseball for several years at Ingersoll Middle School and Canton High School. He has completed both the Chicago Marathon and the St. Jude Marathon in Nashville, as well as many half-marathons and other road races. Freeman, wife Jaymie, and their five children — Madeline (14), AnnaSophia (10), Wyatt (4), Rhett (18 mo.), and Jace (18 mo.) — reside in Metamora.
Lewistown native Samy Gonstal took dual credit courses from SRC while in high school, and then attended on an Academic Performing Grant in order to complete the prerequisite courses needed for nursing school. While at SRC she was in the Honors program, Phi Theta Kappa, and served as a peer tutor. She received an A.A. in 2007, followed by a Bachelor of Science Degree in Nursing from St. Francis Medical Center College of Nursing. Gonstal began working in adult Intensive Care in 2011 at St. Francis Medical Center in the Surgical ICU. While there, she precepted and mentored countless new nurses and nursing students as they transitioned into their roles within the critical care setting. In 2013, she obtained her Critical Care Registered Nurse certification. She currently works as an ICU travel nurse in northern Illinois – serving a contract with MercyHealth in Rockford – and works pro re nata for Spoon River Home Health. In 2017, Gonstal received the internationally recognized DAISY Award for extraordinary nurses in honor of her compassionate care to patients and their families. She and husband Paul enjoy family time, live music events, and time spent outdoors.
Kevin Noble graduated from Havana High School and was working at a Wareco gas station in 1983 when he unexpectedly received a small sum of money from a recently deceased friend. He used that money to enroll in law enforcement classes at Spoon River College, then taught by Alan Hollander. When not working or attending classes, Noble rode along with Fulton County deputies on the graveyard shift through the Fulton County Auxiliary Police Program. In 1984 he began working part-time for the Mason County Sheriff's Department before hiring on full-time with the City of Havana in 1985. Nine years later he was appointed Havana's Chief of Police. Throughout his tenure as Chief (23 years), Noble emphasized training and collaboration with other police departments and offices. He retired in 2017, after a total of 33 years with Havana PD and a career that earned him numerous distinctions from co-workers and the City of Havana, including the Blue Knight Award, the Meritorious Service Award, and the Police Medal. A history and civics buff, Noble enjoys spending time with his family and camping and traveling with wife Kelly, also a graduate of SRC, and who served 26 years with the Mason County Sheriff's Office.
Honored as a Distinguished Friend of SRC, Judge Bruce Beal grew up in Lexington, Massachusetts. He made his way to Illinois and got a degree in economics and business from Illinois College, then returned to Massachusetts where he earned his J.D. from Western New England University in 1976. Beal began practicing law in Canton, and continued to practice in Fulton County for 40 years before being appointed to the 9th Judicial Circuit Court in 2016. His first experience with Spoon River College was through the SRC Community Chorus as a Keystone Kop in The Pirates of Penzance in 2008. His continued involvement with the Chorus ultimately led to a spot on the SRC Foundation Board in 2010. While serving on the Foundation Board, Beal drafted many of the policies, procedures, and by-laws under which the Foundation operates. He also helped construct the Sherman Reed Trust, which offers more than $16,000 in scholarship funds to SRC students every year, and was a driving force in the process to secure the Snapper Villas student housing complex on campus. To be compliant with the Code of Judicial Ethics, Beal no longer has any fundraising duties, but he does remain an active member of the Foundation Board. Beal and wife Jenny are the parents of Nat Beal and Alissa Carter and grandparents of Walker and Emerson. They enjoy a variety of activities, including SCUBA diving, musical performances, and Boston sports.
Peoria Native Tom Dunne was honored with the Outstanding Service Award. Dunne graduated from Spalding Institute and enlisted in the Navy during the Cuban Missile Crisis. Patrolling the Atlantic on an aircraft carrier looking for Russian submarines approaching the US coast, Dunne said his ship's claim to fame was holding the record (still standing) for two collisions at sea in a six-week period. When he left the Navy, he enrolled at Bradley but left after the first year. He found his way to Canton Community College via several friends that were attending there. Taking business courses with a goal of transferring to SIU-Carbondale, he soon found himself inspired by friend and CCC alumnus Mike Frisch's role as a grade school teacher in Peoria. In 1969, Dunne received his degree in secondary education from SIU and began teaching social studies at Norwood Elementary School. He returned to SIU (where he met future wife Linda) and earned his master's in guidance counseling in 1972. For the next 30 years he served as a guidance counselor and then Guidance Director at Fenton High School in Chicago. For the final nine years before his retirement, Dunne served in the same capacities and as the assistant principle at Walter Payton College Preparatory High School, which ranked as one of the top three public high schools in Illinois and received many national awards for excellence during his tenure. He and Linda have three daughters, and spend a significant amount of their time volunteering by visiting patients and serving communion at Loyola Hospital, visiting elderly parishioners, serving dinners at homeless shelters, and working on various committees and service organizations. They travel frequently and have visited dozens of countries.  Last year, Tom completed one of his lifelong goals of visiting all 50 United States. They reside in Oak Park.
The Distinguished SRC Retiree Award went to Chicago native Bog Gorg, who taught communications and theatre for 28 years at Spoon River College. Having taught at the high school level before completing his master's degree at Northeastern Illinois University (which he attended on an acting scholarship), Gorg was looking for a community college where he would be able to combine his teaching experience and training in communications and theatre. SRC offered the perfect opportunity. During his time there, he developed a strong theatre department, directing 26 plays and giving many students their start in theatre. As a faculty member involved in the Honors Program, he was able to offer students the opportunity to attend plays and musicals in Chicago. He also founded The Collegiate, now known as Kaleidoscope, Journal of Art and Literature, and was a two-time recipient of the H. Truman Standard Distinguished Faculty Award (1998 and 2008). Upon his retirement in 2008, Gorg co-founded Many Lights Theatre, with the goal of producing "plays that make a difference" and served as the Artistic Director until this past spring, when he turned those duties over to others in the organization to make more time for traveling with his wife of 34 years, Rochelle, and their German shepherd Nova. He also enjoys reading, golfing (poorly), and exercising.
Dr. Bruce DeRuntz of Granite City was set to attend the University of Northern Iowa on a full scholarship until an injury closed that door. Instead, SRC track coach Charlie Black took a chance on him and he came to SRC in 1982 to run track and cross country. While earning his associate degree, DeRuntz became one of the most decorated athletes in CCC/SRC's history. He was the Region 24 cross country champion in 1982, setting course records five times and going undefeated in the regular season on his way to All-America honors.  In 1983, he won Region 24's three-mile indoor race, again securing All-American status with a fifth place finish at nationals, and was an honorable mention All-American in 1983 in the marathon. DeRuntz continued his education, earning a bachelor's degree from EIU and both a master's degree and his Ph.D. from SIU-Carbondale. His working career at SIU began in 1998, when he was hired as an assistant professor in the technology department in the College of Engineering. By 2010, he was a full professor. He founded the Leadership Development Program at SIU-C in 2006, and he has helped it to grow into one of the most successful programs in the country, providing over $2 million in funding for community college students pursuing their B.S. in STEM fields, and with a pre-graduation career placement rate of 97 percent. DeRuntz was a past recipient of the SRC Distinguished Alumnus Award in 1997. He and wife Elizabeth are parents to Alex and Katie. He enjoys cycling, swimming and gardening, and he has completed numerous road races and triathlons.  He has also completed The [Des Moines] Register's Annual Great Bicycle Ride Across Iowa (RAGBRAI) eight times.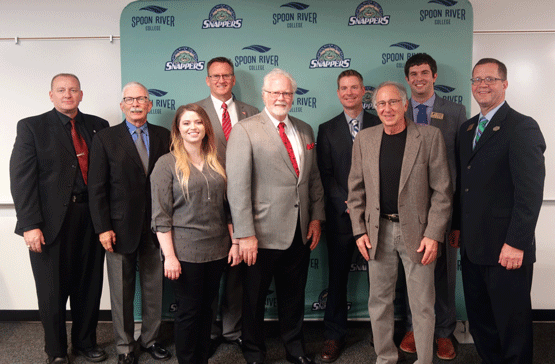 Recipients were (front l-r): Samy Gonstal (Alumni Achievement), Bruce Beal (Distinguished Friend of SRC), Bob Gorg (Distinguished SRC Retiree) and SRC President Curt Oldfield. Back row l-r: Kevin Noble (Alumni Achievement), Tom Dunne (Outstanding Service), Dr. Bruce DeRuntz (Athletic Hall of Fame Inductee), Matt Freeman (Alumni Achievement), and Colin Davis, director of the SRC Foundation.