11/18/2016
The Canton Community College/Spoon River College Alumni Association hosted their annual Alumni Association Awards Reception at the Canton Campus on Saturday, October 29. Welcoming the honorees and guests were SRC President Curtis Oldfield and SRC Foundation Chair Bruce Beal. SRC alumna Ellen Dodd was the master of ceremonies.
Alumni Achievement Awards were presented to Chet Esther, Staci Mayall, Claudiare Motley, and Soe Tha.
Chet Esther farms 4800 acres of corn and soybeans near Frederick, in Schuyler County, with his sons, Ryan and Chad, owns and operates Chester Enterprises (truck and trailer sales and repair) and CE Construction, and in 2011 was one of the three families featured in Farm Journal's Legacy Project.
A graduate of Rushville High School, Esther attended SRC in 1977. He graduated from the Illinois Ag Leadership Program in 2008. As a community leader, he has served as drainage commissioner for Coal Creek Drainage District (1980-present) and has served as a Schuyler County Board member since 2013. He coached and served as a board member for the Schuyler County Little League Association from 1987-1994.
Esther has also served as the director/president of Schuyler Brown FS and of Two Rivers FS, the director/vice-president of Prairieland FS, the director of GROWMARK, Inc., and the secretary and vice-president of the GROWMARK Board.
"My instructors and fellow students gave me valuable and additional perspectives on agriculture, and my favorite part of SRC was visiting area farms and observing new techniques in the field," said Esther, who enjoys fishing, traveling, and spending time with his wife Lori, sons Chad and Ryan, and his five granddaughters and one grandson.
Staci Mayall attended SRC in 1994 after graduating from Canton High School. While at SRC, she served in the Student Government Association and as the student trustee, and was a peer tutor. After graduating with an AS degree, she transferred to WIU and completed a BA in psychology.
Mayall worked for CEFCU's lending department where she met her future husband, Chad. After marrying and starting their family, she left the workforce to devote her time to raising her sons Connor and Brady but was still active in the community, including a leadership role on the Board of Directors at the Fulton County Humane Society. She also founded an independent consulting business to help clients prioritize and organize their goals and led a crew of 25 independent representatives of Thirty-one gifts, where she was promoted into corporate leadership. In April 2015, Mayall became chief deputy treasurer, and in December 2015, earned the appointment to the position of Fulton County treasurer.
Mayall serves on the Board of Directors at the Canton Family YMCA, is a founding member of Pet Fix Alliance, and volunteers in several roles through Wesley United Methodist Church.
"I chose Spoon River College as a way to transition into college. It was close to home, my family was nearby, and I could continue working at Hy-Vee," Mayall said.
Claudiare Motley came to SRC after being recruited from Milwaukee Tech High School in Wisconsin by B.J. McCullum to play basketball for SRC. He graduated in 1992 with an AAS/business administration degree, then completed a BA in finance with a minor in accounting along with his M.B.A. from the University of Wisconsin-Milwaukee.
After years of working extensively in the financial industry, Motely experienced a life-changing incident in 2014. The victim of an attempted carjacking at his high school reunion in Milwaukee, he drove himself to the hospital after sustaining a gunshot wound to his jaw. He underwent multiple surgeries but felt fortunate to be alive. Having received his Juris Doctor degree from the Charlotte School of Law in Charlotte, North Carolina, the incident led him to become an advocate for others who have been victimized.
Motely and his wife Kimberly founded Motley Consulting International, where he serves as the financial advisor and chief financial officer. They work with clients in the US, the United Kingdom, Italy, Afghanistan, Japan, Australia, and South Africa. The couple and their three children reside in Charlotte, North Carolina their home.
Soe Tha attended SRC in 2005 after graduating from Canton High School. He transferred to the
U of I Urbana-Champaign where he majored in molecular and cellular biology and joined a biochemistry lab for research in cellulosic ethanol production. He went on to attend WIU and earned his Master's in chemistry.
Tha has worked on various research projects, including those funded by the National Institute of Health and the National Cancer Institute, spending two years researching drug testing for potential inhibitors associate with cancer cells. He has received numerous honors for his research and several of his works have been published in various journals.
Eventually, a love of law led Tha to enter the John Marshall Law School in Chicago, where he focused on patents and trademarks. In 2016, he received his Juris Doctor degree and a Certificate of Concentration in Intellectual Property Law. He is serving as a law clerk at Spark IP Law in Chicago while preparing to take the Illinois State Bar Examination and the Paten Bar Examination so he can practice patent law in Illinois.
"I appreciate the opportunities I was offered at Spoon River College, and am thankful the faculty there always took time to tend to the individual needs of the students," said Tha, who resides in Chicago with his wife Jamie, who teaches at LaSalle Language Academy. Tha is the son of Dr. Win Tha Htwe, physics professor at Spoon River College.
Outstanding Service Award: Betty Taylor
The Outstanding Service Award was awarded posthumously to alumna and longtime SRC trustee Betty Taylor, who along with her husband Dr. Willison I. Taylor, was considered a driving force in the founding of the SRC campus.
A lifelong Canton resident, Taylor attended and graduated from Canton High School, Graham Hospital School of Nursing, and WIU. Passionate about education, she taught health and CHS for 18 years after 11 years as a nurse at Glenn-McGuire Clinic and Graham Hospital.
Taylor was involved in many community organizations, including PEO, the Canton Friendship Festival Committee, the Canton Lion Club Eye Clinic, the Canton Community Resources Committee, Wesley United Methodist Church, and Spoon River College.
Active in local, state, and national politics, Taylor reached out to encourage people to become civically involved. She was elected to the Spoon River College Board of Trustees in 1995 and served for the next 20 years, retiring in 2015. She was honored with the Distinguished Alumna award from SRC in 1984, and as a Woman of Distinction by the Canton YWCA in 2000.
Taylor was mother to Karen Disharoon, step-mother to the late Dr. Daniel Taylor, Nancy Randol and Gary Taylor, grandmother to seven, great-grandmother to 14, and great-great-grandmother to one.  Taylor was a friend to many – fiercely loyal and always looking to make someone's life better.
Distinguished Retiree Award: Vickie Churchill
Vickie Churchill was employed by Spoon River College for more than 31 years, retiring in May of 2014. She began in 1982 as an employee with the C.E.T.A. program working in the vice president's office. She was a student employee and then a full-time employee, and she found her calling when she transferred to the financial aid office at SRC.
Working with the students regarding finances sometimes took patience and understanding, and Churchill had both. Her work with student veterans became her passion, and she kept up with the veterans on each campus, making sure the proper paperwork was done and government reports filed on time, even when it meant working during times the college was closed due to inclement weather. In 2013, Churchill was recognized by the Macomb American Legion Post 6 for her service to student veterans at SRC.
"Helping veterans through the maze of all that paperwork was one of the most rewarding parts of my job," said Churchill, who is married to a veteran.
Churchill was just as dedicated to students who weren't veterans, and was also noted for her respect of co-workers. She was active in the SRC Classified Personnel Association and numerous college committees.
Churchill and her husband Steve stay active by spending time with their children and grandchildren, with an occasional vacation trip squeezed into their schedule when possible.
"I miss working with the students, but I'm where I need to be right now, which is with my family," said Churchill.
A list of past recipients of these awards can be viewed by clicking on the Foundation and Alumni tab of the SRC homepage.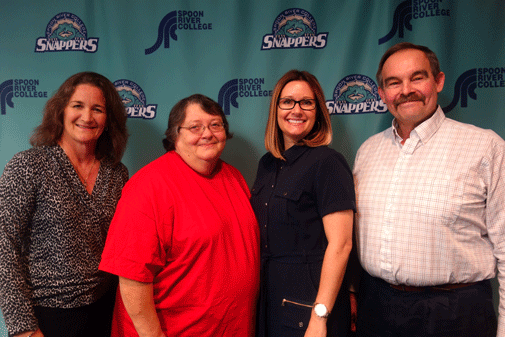 Pictured (l-r) are Karen Disharoon, Vickie Churchill, Staci Mayall, and Chet Esther. Mayall and Esther were honored with Alumni Achievement Awards at Spoon River College. Churchill was honored with the Distinguished Retiree Award, and Disharoon accepted the Outstanding Service Award, which was awarded posthumously to her mother, Betty Taylor.