Canton, Ill., (August 1, 2023) – Spoon River College is one of five community colleges to be chosen as a recipient of a $25,000 educational grant for career and technical education from the Agriculture and Rural Initiative, Compeer Financial's donor advised fund, which has granted $175,000 to community and technical colleges across the cooperative's 144-county territory.
In 2021, Compeer committed $1.9 million in grants and scholarships at select colleges over the next five years with the goal of further developing agriculture's workforce. This announcement represents the third of three rounds of grants being presented.
"Our clients continue to list workforce development among their highest concerns, and these grants and scholarships are the first step to improving this challenge for the industry," said Stephanie Wise, a Compeer Financial Director. "The future of agriculture and our client's farms rely on a strong, vibrant and robust agricultural workforce, and our partners in higher education provide opportunities for young adults to explore and gain hands-on experience in these careers."
The grant will go towards a new greenhouse, and Allyson Smith, Agriculture faculty member at the college, said it will allow her the opportunity to provide students with more hands-on learning in horticulture and crop science by incorporating plant ID, research, and plant sales into the curriculum. "On behalf of the Spoon River College Agriculture Department, I would like to thank Compeer Financial for their generous donation." Smith, who began teaching at Spoon River College in 2022, earned her Master of Science Crop and Soil degree with a focus on Agronomy and Weed Science from Michigan State University. Prior to teaching, she was a research specialist at the University of Missouri.
In addition to the grant, as one of thirty partner colleges, Spoon River College will also receive two annual $1,250 scholarships to award students enrolled in the college's agriculture program or pathway over the next four years. Partner colleges were selected based on their agricultural education offerings, agriculture workforce development, and geographic impact.
"I would like to thank Compeer Financial for their continued commitment to education and sustainable agriculture," said Brad O'Brien, dean of career and workforce education at the college. "We are very excited about the hands-on opportunities that their contribution towards this greenhouse will give our students."
The agriculture program at Spoon River College is one of the college's longest running programs and prepares students for a variety of agriculture careers in areas of production, management, business, precision technology, natural resources and conservation, and much more. The Agricultural Business Management program culminates in an Associate in Applied Science degree that can be adapted for students planning to transfer to a four-year university. Stand-alone certificates that can be completed in a shorter amount of time than a degree are also offered.
Spoon River College is a two-year, public community college in West Central Illinois with campuses and Community Outreach Offices in Canton and Macomb and new Learning Centers in Havana and Rushville, and covering a 1,566 square mile area including portions of Fulton, McDonough, Mason, Schuyler, and Knox counties.
The Agriculture and Rural Initiative was created by the Compeer Financial Board of Directors in 2019 to make signature investments in programs and projects that directly address the needs of farmers and others who work in agriculture. To date, $10 million has been invested in the Initiative. To date, the Initiative has awarded $1.8 million to support communities during the pandemic and agriculture workforce development.
"These grants represent Compeer's commitment to champion rural, by supporting our clients and communities, creating sustainable and long-term success in the industry." said Wise, of Joliet, Il. "As we wrap our final round of this support to community and technical colleges, we are seeing positive impacts on the students studying agriculture by providing one-of-a-kind educational opportunities."
Compeer Financial is a member-owned Farm Credit cooperative serving and supporting agriculture and rural communities. The $30 billion organization provides loans, leases, risk management and other financial services throughout 144 counties in Illinois, Minnesota and Wisconsin. Based in the Upper Midwest, Compeer Financial exists to champion the hopes and dreams of rural America, while providing personalized service and expertise to clients and the agriculture industry.
Compeer Financial is the third largest cooperative of the Farm Credit System, a nationwide network of lending institutions supporting agriculture and rural communities with reliable, consistent credit and financial services. Learn more about Compeer Financial.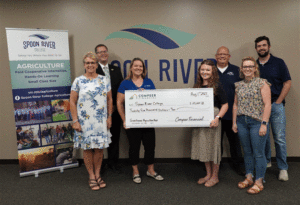 Pictured (l-r) are Julie Hampton, executive assistant to the President/Board of Trustees and Grants Coordinator, President Curt Oldfield, Karen Schieler, senior corporate giving specialist at Compeer Financial, Allyson Smith, Agriculture faculty, Brad O'Brien, dean of career and workforce education, Katey Davis, business office director, and Colin Davis, SRC Foundation director.