The Canton Community College/Spoon River College Alumni Association hosted their annual Alumni Association Awards Reception and Athletic Hall of Fame Induction November 5 at the Canton Campus.
Dr. Erik Dalmasso, program director and assistant professor of the Ed.D program at Bradley University, served as the Master of Ceremonies. Those being honored were Janice (Dare) Bruster and Henry Dare, Outstanding Service Award; Ellen Dodd, Distinguished SRC Retiree; and Rick Klinedinst, Distinguished Alumni Award.
Alumni Achievement Awards were presented to Barbi Brewer-Watson, John Davis, David Gregory, Randy and Susie McMillen, Jeff Standard, and Carla Teslicka.
Presenting the awards were Janice (Dare) Bruster), Bruce Beal, Glenda Bryan, Carol Davis, Colin Davis, Dr. Bruce DeRuntz, Julie Hampton, Patrick O'Brien, and Dr. Curt Oldfield.
More pictures and a video of the event can be viewed on the Spoon River College Foundation Facebook page. The complete bios of all award recipients are listed below.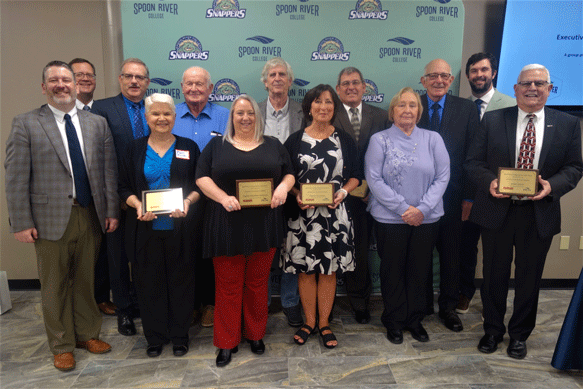 Pictured l-r front row are Dr. Erik Dalmasso, Janice (Dare) Bruster, Carla Teslicka, Ellen Dodd, John Davis, back row Dr. Curt Oldfield, Rick Klinedinst, Henry Dare, David Gregory, Jeff Standard, Randy McMillen, and Colin Davis.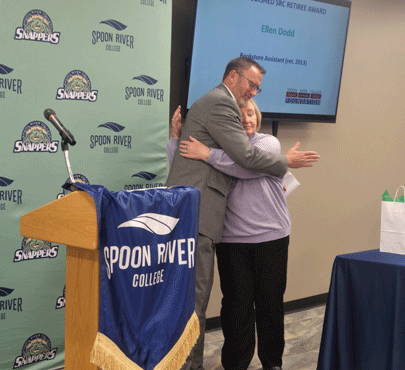 SRC alumnus Dr. Bruce DeRuntz presented Ellen Dodd with her Distinguished SRC Retiree award. Their friendship began when DeRuntz was a young student buying his text books from Dodd in the SRC Bookstore and she noted that he was a long way from home. She invited him to her family's home for Sunday dinner—the first of many—and her family became his.
OUTSTANDING SERVICE AWARD
JANICE (DARE) BRUSTER & HENRY DARE
Natives of Canton and of the farm life, both attended SRC. While Henry sought an associate degree, Janice took classes at SRC while attending Graham Hospital School of Nursing. After college, Janice went on to a 42-year career as a registered nurse, where she held specialties in trauma nursing, emergency nursing, advanced cardiac life support, and pediatric advanced life support. True to her commitment to education, she was the field nurse trainer for the first paramedic class at WIU.
Henry worked for five years in sales and marketing for Ralston Purina (where he had completed an internship while a student at the University of Illinois) and later became the Sales Manager for Schuyler-Brown FS. In 1979, he returned to the family farm in Canton, where he remains a sixth-generation farmer.
Janice's community involvement includes the Spoon River Garden Club, Spoon River Pregnancy Center, Fulton-Mason Crisis Service, St. Jude, Ronald McDonald House, and Patient Access Network Foundation, and the boards at Lambs of God and Wesley United Methodist Church (where she is a member and sings in the choir).
Henry, meanwhile, has served on the boards of Spoon River FS, Fulton County Farm Bureau, Fulton County Extension, and Fulton County Pork Producers and in numerous roles at Wesley UMC and the First Christian Church in Canton, where he is a member.
He also served nearly two decades on the SRC Board of Trustees and on the college's Ag Advisory Committee. Janice is a graduate of SRC's Community Leadership Academy, participates annually in the Lifelong Learning Conference, sings in the SRC Community Chorus. Both have generously supported SRC financially, as the family has endowed four scholarships to support students in the Diesel, Education, Agriculture, and Paramedicine programs.
Janice has one son, Mark. Henry's wife of 45 years, Cheryl, passed away in 2019. Together, they had two sons, Gregory (wife, Samantha) and Philip (wife, Kris). They have two grandchildren, Madison and Isaac. He married Ann in 2021.
DISTINGUISHED SRC RETIREE AWARD
ELLEN DODD (ret. 2013)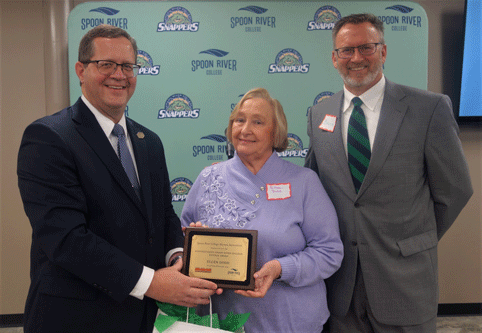 Also an SRC alumna herself, Ellen Dodd, a 2013 retiree and this year's Distinguished SRC Retiree recipient, just may be the most devoted advocate of Spoon River College in general, and of the SRC community in general.
Ellen started her career in the SRC print shop, when they were still downtown Canton and not everyone had a computer at home. After SRC moved into the present buildings, Ellen worked as the switchboard operator. Soon, Ellen was also helping out in the bookstore, and eventually worked there full-time as the Bookstore Assistant. Her responsibilities included supervising student workers, and she counts her interactions with students among her favorite memories.
Ellen has served as the President of the Cuba Lioness Club and as a radio operator for the Fiatt Station of the Cuba Fire Department. She's also served as a Superintendent for the Fulton County Fair and remains involved with the Fulton County Fair Board.
Since retiring after 40 years of service to SRC, Ellen earned her bachelor's degree in Christian ministry at Mid-America Christian University. She serves as pastor at Smithfield Brock United Methodist Church and Locust Lane UMC. Until more recent years, she served as pastor at St. David UMC until its closing.
She also remains extremely involved with SRC, having served as a previous President of the CCC/SRC Alumni Association and, for many years, as emcee of this event. She also continues to assist with other SRC Foundation programs and attends many college events. Life circumstances forced her to take a year off from her duties in planning and hosting this event this year, which gave the Committee its one and perhaps only opportunity to honor her with this award, which she truly de-serves.
For 42 years, she was married to Loyd, who she met at SRC, until his passing in April 2021. Her family includes daughters, Robin and Lori; son, Jacob; former daughter-in-law, Jessica; and grandchildren Andrew, Hilary, Dustin, Brody, and Kole. Ellen is also a devoted cat mom and can often be found catering to every whim of Lillie, her Labrador retriever.
DISTINGUISHED ALUMNI AWARD
RICK KLINEDINST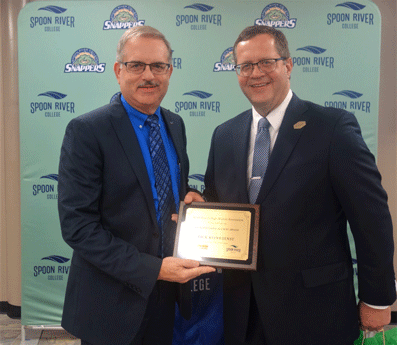 Rick Klinedinst originally wanted to be an architect. Then, he wanted to be a mechanical draftsman and follow in the footsteps of his father. But after a discussion with a mentor at his part-time job at what is now MidAmerica National Bank, he realized that banking could be his career.
The rest is history, as Rick has improved his rank from part-time "coin boy" in 1978 (when he was just 15 years old), to roles in Operations in Lending (where he'd become Assistant Vice President in 1991 and Vice President in 1994), to Senior Vice President of Retail Division in 1997, to President of Fulton County operations in 2004.
Since 2010, he's served as CEO/President of MidAmerica National Bank, an institution with $575 million in assets and which is one of the largest banks in west central Illinois.
Rick attended SRC from 1981-1985 but left two credit hours short of his associate degree to transfer to Western Illinois University, where he earned his bachelor's in finance in 1986. He's since earned additional academic credentials from the Illinois Bankers Association, the University of Wisconsin's Graduate School of Banking, and the Bank Administration Institute.
With a list of community involvement too lengthy to list, Rick's connection with SRC remains unbreakable, having served both on the Foundation Board and Board of Trustees. His roles at SRC have included student, instructor, volunteer, investor, donor, bond investor, presenter, and many other roles because of how important he believes SRC is to the community. He even returned to SRC in 2006 to take one class and finish his associate degree 20 years after obtaining his bachelor's degree, just to say that he graduated from Spoon River College.
Rick and his wife, Janet, have three children: Drew (wife, Mary Beth), Andrea, and Clay. He counts his family as his greatest personal achievement and time with his grandkids as his favorite life memories. A history buff with emphases on Lincoln and local history, he published a book with Mary Haney in 2017, entitled Camp Ellis: Once a City, Not Forgotten. He hopes to write more, start his own business eventually, and keep teaching, volunteering, speaking, and spending more time with his grandkids.
ALUMNI ACHIEVEMENT AWARD
CARLA TESLICKA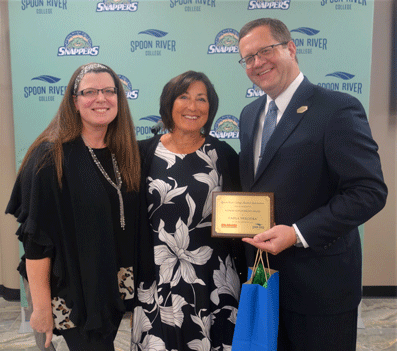 Carla Teslicka first joined the YMCA of McDonough County in 1976 as an Administrative Secretary. She briefly moved out of the area and returned to serve as Membership Director for seven years, earning the YMCA's Membership Coordinator of the Year distinction in 1996. In 1998, she earned a promotion to become the Director of the Gymnastics Center.
She graduated from SRC in 2000, concentrating in communication in her Associate of Arts degree. A strong student at both institutions, she was a member of Phi Theta Kappa at SRC and graduated with High Honors from WIU in 2002, despite being a single mother and working 30 hours per week while taking classes full-time at WIU.
As she completed her education at SRC and WIU, she was selected to serve as Associate Executive Director of the YMCA of McDonough County. In September 2011, she accepted the position of CEO, a role that she held until her retirement at the end of 2021.
In the 133-year history of the YMCA of McDonough County, she was the first female to hold the position of CEO, and she credits her experiences at SRC with giving her the confidence she could be successful as a student and with changing the way she thought about herself.
In the community, Carla has been involved with Rotary International in both Macomb and Bushnell, the Macomb Heritage Days, Big Brothers/Big Sisters, Rock Steady Boxing, the McDonough County Housing Authority, Western Illinois Regional Council, Macomb Area Economic Development Corporation (MAEDCO), and served as the YMCA liaison for the McDonough County Health Department during the COVID-19 pandemic.
In retirement, Carla, who is determined to make this phase of her life worthwhile after a Parkinson's diagnosis, is focusing on her family, which includes her husband, Steve (a retired firefighter of 23 years): daughters Chelsea and Michele, sons Tim and Dustin; and seven grandchildren. They are expecting another grandchild in March 2023.
ALUMNI ACHIEVEMENT AWARD
JEFF STANDARD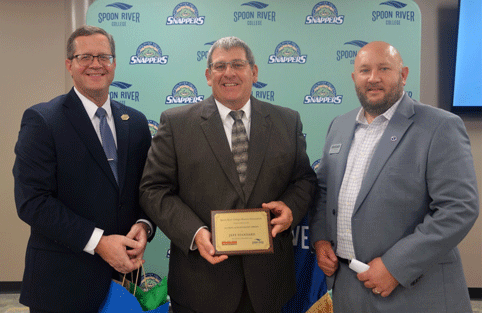 Few people—let alone SRC alumni—have occupations as stressful as Jeff Standard's. A Canton native, he graduated from Canton High School before continuing his education at Western Illinois University, where he graduated with a degree in Law Enforcement Administration. Jeff took classes at SRC from 1987-1988.
After a 12-year hiatus from law enforcement while working for Owens Farms, joining his father-in-law in the family business, Jeff embarked on a 30-plus year career in law enforcement, largely with the Fulton County Sheriff's Office. In 2006, after the retirement of Sheriff Dan Daly, Jeff ran for the open office and was elected. He was re-elected in 2010, 2014, and 2018.
As Sheriff, Jeff oversees the Fulton County Jail, security and maintenance at the Fulton County Courthouse, 911 dispatch, Animal Control, and the patrolling of all of Fulton County's unincorporated towns and rural areas in one of the geographically-largest counties in the state.
In addition to his service in law enforcement, he's also coached youth football, basketball, baseball, and softball, served on the Friendship Festival Board and St. Mary's Parish Council, is a member of the Elks' Lodge and Fulton County Farm Bureau, and has served the Copperas Creek Fire Protection District as a firefighter and EMT. He's also ben one of the most popular speakers at SRC's Lifelong Learning Institute (formerly the Retirees' Learning Institute) over most of the past 15-plus years.
Additionally, he has continued to add professional education to his resume and has participated in numerous professional organizations over the years to ensure that Fulton County benefits from the best practices of law enforcement organizations from across the country.
He and his wife, Kim, are the proud parents of Emily (husband, Cody) Crumb and Dr. Jacob Standard, both alumni of SRC. He plans to retire from the Sheriff's office later this month and looks forward to spending more time with his family and enjoying a quieter life, including spending more time with his grandchildren, Brayden and Brooklyn.
ALUMNI ACHIEVEMENT AWARD
RANDY & SUSIE McMILLEN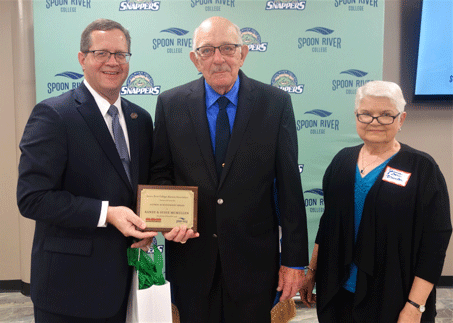 While Susie was a Canton native, Randy came to SRC in 1971 after being recruited by Ed Georgieff following a strong basketball career at Augusta-Southeastern High School and ultimately stayed after school. He went to work for International Harvester after SRC.
Each of them going through divorces at the time, Randy and Susie met in 1978 and bonded over their shared experiences. Susie desperately wanted to go to work and entered a Caterpillar metallurgy co-op pro-gram at SRC. After graduating in 1981, she went to work for Caterpillar.
The closing of IH and layoffs at Caterpillar changed their career paths. Randy managed Fulton County Trucking, and Susie went into real estate, later convincing Randy to join in. They launched McMillen and Wife Real Estate and Auction Service in 1989.
1994, Randy took an opportunity to work for Caterpillar as a machine operator and later moved into management. When Susie wanted to focus on directly helping her clients, they sold McMillen and Wife. In 2001, they began listing and selling real estate for RE/MAX Unlimited, with Susie earned the company's highest honor, the Lifetime Achievement Award, recognizing her as one of the best realtors in the industry.
Susie served over 20 years doing ministry at the prison and was a lay speaker for several small churches in Fulton and McDonough Counties. She was known for her random acts of kindness, whether dropping off food at someone's house, taking cold drinks to construction workers on hot days, or paying for those behind her in the drive thru at McDonald's. She served two terms on the SRC Foundation Board and was instrumental in the SRC Alumni Association in the organization's early days. She held the unofficial role of "Chief Recruiter" for the SRC Community Chorus, a group she performed with and loved dearly.
Unfortunately, Susie passed away in August 2022 following complications after surgery. In "retirement," Randy is as busy as ever, doing his best to keep Susie's legacy in real estate alive. He also plans to do more random acts of kindness to help keep Susie's memory alive. Despite a distinguished career with Caterpillar and in real estate, Randy still considers meeting Susie as his life's greatest achievement.
ALUMNI ACHIEVEMENT AWARD
DAVID GREGORY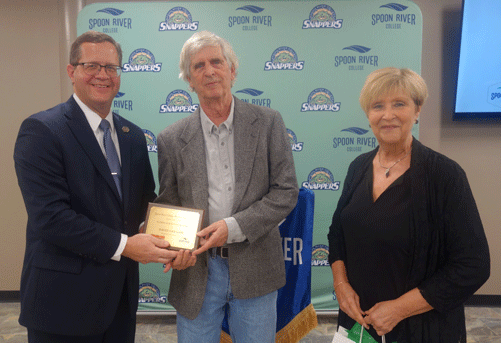 The oldest of 14 children growing up in Canton, David Gregory originally hoped to study aeronautical and astronomical sciences, train to become an astronaut, and live on a space station. At the University of Illinois, he discovered a love of art and switched his major to architecture before dropping out to explore a different lifestyle for a few years.
In 1974, he returned to Canton and took a night class at SRC from instructor Tom Snowman. That class inspired him to return to the U of I and study art. He then moved to California and worked out of galleries in the San Francisco region. His work was included in an art book published in Singapore., and when he accompanied the author on a tour to support the book in Singapore, he sold many paintings. This led to a career as a professional artist.
David managed the Ruth Carlson Gallery in California, a gallery which handled the works of 50 artists, including his own, and co-owned (with his first wife, Georgia) Gallery One in Mendocino. After a stint in Hawaii, his works were on display at the Inma Gallery of Fine Art in Sau-di Arabia, where he taught watercolor technique.
Specializing in watercolor, David and his work have received numerous awards and invitations to exhibit in many prestigious art galleries. Between 2005 and 2021, his work was displayed in 44 different group exhibitions in 12 states, and since 1984, he's had 17 solo exhibitions of his work. He teamed with author John Bear to publish a fine art coffee table book called Mendocino, with over 70 of his paintings included.
In the fall of 2021, David's paintings were on display at the University of Illinois' Student Union Gallery. His work continues to be exhibited at galleries and museums across the country in 2022, and in an effort to "pay it forward" earlier this year, designed, created, and painted the scenery for the SRC Community Chorus' production of Into the Woods.
David returned to Canton in 2006 to care for his father until his dad died in 2009. While in Canton, he met his second wife Renee at Parlin Library and today both live in Peoria. Since his return to Central Illinois, David has served three years on the board of the Fine Arts Society of Peoria and volunteered as a docent for several years leading tours at The Peoria Riverfront Museum. His portfolio can be viewed at www.davidgregorystudio.com.
ALUMNI ACHIEVEMENT AWARD
BARBI BREWER-WATSON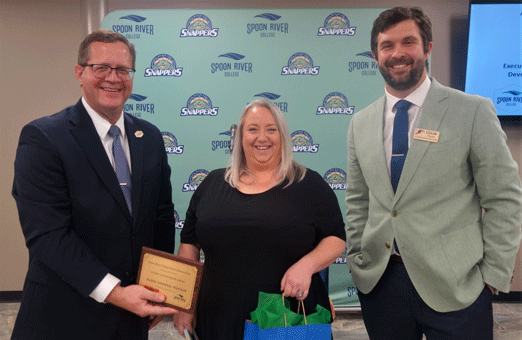 Struggling with her own confidence as a real estate agent during the housing crisis of 2008 and having been away from the academic life-style for some time, Barbi Brewer-Watson left her bartending job in the Kankakee area, on a path to complete a music business degree from WIU.
Her first stop was SRC, a place she originally thought of as a stepping stone but has since come to call her second home — where she earned her associate degree in 2011.
Focused on getting a job in Chicago at the Lyric Opera, she completed an internship which took her back to Kankakee to organize a three-day music festival in 2014. Knowing she was looking for work, local business leaders plugged her into community organizations in an attempt to keep her in Kankakee. She became the Executive Director of the local orchestra.
Those same local business leaders convinced her she could utilize her skills as the Executive Director of the local Chamber of Commerce. Four years later, the Mayor asked her to come oversee the city's eco-nomic and community development activities.
As Executive Director of the Economic and Community Development Agency, she has the opportunity to work with many different businesses and organizations across the city. Among other initiatives, she oversees projects relating to the Downtown and Riverview Historic Districts, a 20-year plan for the Kankakee Riverfront, and efforts to improve housing and the local business and workforce climate. She readily admits her hands are in many pots, but she credits her time at SRC to helping her hone the skills necessary to take on so many projects.
Barbi lives in Kankakee with her husband, Mike, and their dog, Snickers. She holds two master's degrees from Olivet Nazarene University and in 2018 was named a United Way Neighborhood Champion and to the 40 Under Forty list for Kankakee County. She received the Phenomenal Woman Award from the City of Kankakee in 2019, and she's also involved with Drug Free Kankakee, Inc., the Kankakee Regional Landbank Authority, the Kankakee Riverfront Society, and the United Way. Barbi remains active with the Kankakee County Chamber of Commerce and the local performing arts scene, including, from time to time, the SRC Community Chorus and the Canton Church of the Brethren—organizations that she said made SRC and Fulton County her home.
ALUMNI ACHIEVEMENT AWARD
JOHN DAVIS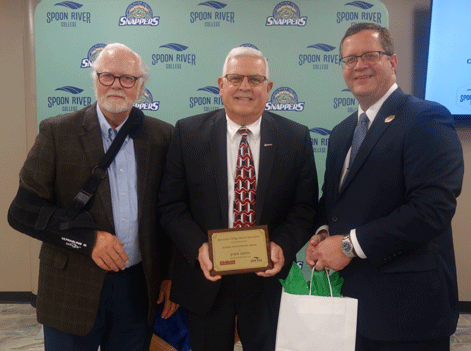 A non-traditional student who had been in the workforce before returning to SRC, John Davis credits SRC for helping to expand his knowledge base and find career choices and leadership roles that he otherwise might not have had.
Also a graduate of California Southern University, Chadwick University (where he earned his MBA), John obtained a certificate in Health Administration from the Graduate Program in Health Sciences at The Ohio State University.
For the past 21 years, John has owned Davis Buick-GMC and Davis Ford in Canton, after acquiring Coleman Ford and Coleman Buick-Pontiac-GMC in 2001. He recently (with his daughter, Kiley) launched LINE-X of Canton—a full service body shop that offers bedliners and truck/vehicle accessories—earlier this year, one of the few LINE-X dealers in the part of Illinois.
Prior to his current role, John was a General Foreman at Consolidation Coal Company in Sparta, Il, owner of D&K Food Park in Canton, and served for 11 years as Vice President of Administrative Services at Graham Hospital.
John has given a significant amount of time to his community over the years, having served on the Boards of the Canton Park District, Canton Area Chamber of Commerce, and the Canton Salvation Army—and as President/Chair of the Kiwanis Club of Canton, the Canton Police and Fire Commission, the Peoria Metro New Car Dealers Association, and the Canton School Board. He's currently a member of the Canton Elks' Lodge, Wesley United Methodist Church, the Bank of Farmington Board of Directors, and the SRC Foundation Board. He was named Kiwanian of the Year in 1986 and the Canton Area Chamber of Commerce Business Person of the Year in 2005.
He and his wife, Gloria, have three daughters: Amy, Ashley, and Kiley, and enjoy being Grandpa and Grandma to Vivi, Lula, and Kannon.