The Lu Fest Committee is excited to announce that the first Lu Fest event, held at White Oak's Sports Bar on May 27, 2023, raised over $53,000 for the Lukas R. Goforth Memorial Scholarship at Spoon River College.
At the event, attendees had the opportunity to partake in a bags/cornhole tournament, bid on many silent and live auction items donated by local businesses and organizations, hear live music from Sushi Roll, and much more.
"We couldn't be more thrilled with the turnout," said Sarah Gray, one of the organizers of the event and Fiscal Officer for the SRC Foundation. "The success of this event is a testament to how generous this community is, especially when one of its own is in need,"
A 2021 graduate of Canton High School and a standout student-athlete in multiple sports, Lukas Goforth had just completed his freshman year at SRC when he tragically passed away in a UTV accident. He competed as part of the Snappers' baseball team and appeared in 13 games during his freshman year, ranking fifth on the team in innings pitched.
Upon his passing, his friends and family established the Lukas R. Goforth Memorial Scholarship with the SRC Foundation. Preference for this permanent, endowed scholarship is given to applicants who were student-athletes during their time at Canton High School.
"Lukas was so proud to be from Canton," said Chantel Goforth, Lukas' mother. "Once we knew we were going to establish this scholarship in his name, having it be awarded to students from CHS who displayed many of his qualities made sense."
Lu Fest also relied heavily on generous sponsors, who helped to underwrite expenses of the event, led by Billy's Tap, Graham Medical Group, Ipava State Bank, Jones Surveying & Engineering Corporation, Mid-Illinois Companies, and Tyson Smith American Family Insurance. With many volunteers stepping up to make the event successful, the event committee consisted of Andra Chamberlin, Tracy Delost Goforth, Gray, Angie Miller, Billy Oaks, Sophie Oaks, Tori Oaks, Ellyn Petty, Courtney Putman, Amy Smith, Renee Stockov, and Georgia Strantz-Oaks.
"For events like this to be successful, it really takes a lot of work and a lot of people pulling the same direction, but this is incredible," said Colin Davis, Executive Director of the SRC Foundation. "We are so grateful to everyone who loved Lukas for their time, effort, and generosity, and we are honored to preserve his legacy for decades to come."
Lu Fest II is tentatively scheduled for May 25, 2024, and more information about the event will be forthcoming.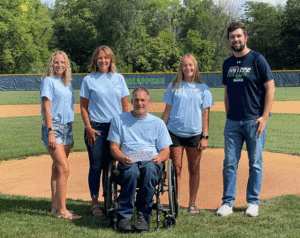 Members of the Goforth Family present a check to the Spoon River College Foundation for the proceeds from Lu Fest, held May 27, 2023 at White Oak's Sports Bar in Canton. The event raised over $53,000 for the Lukas R. Goforth Memorial Scholarship at SRC. Pictured, L to R: Ella Goforth, Chantel Goforth, Trent Goforth, Jena Goforth, and Colin Davis (Executive Director, SRC Foundation).