Zoey Lane of Havana, who served as the 2022-2023 Student Trustee on the Spoon River College Board of Trustees, was presented with a Resolution honoring her service to the Board by Jerry Cremer, Board Chair at the regular public meeting held April 26 at the Canton Campus.
Lane will be transferring to Southern Illinois University at Edwardsville to work towards her pre-dental bachelor's degree. Upon completion, she will then attend Alton's Dental School of Medicine for four years to become a doctor of dental medicine before joining her family's dentistry business. Besides serving as the Student Trustee, Lane was a member of HEAL (Healthcare Enthusiasts And Leaders) Student Association, and was named to the President's List.
Samantha Smith-Coulter will serve as the 2023-2024 Student Trustee. Originally from St. Louis, Smith-Coulter and her husband now reside in Canton.
A self-employed dog groomer for the past two years, Smith-Coulter is working towards an associate degree in science in preparation for transfer to continue her studies in veterinary science.
Student trustees at Spoon River College attend monthly board meetings and give updates about student life and events to trustees, further the interests and promote the welfare of SRC students, and represent the student body in the Student Government Association. Along with gaining leadership skills, trustees have opportunities to attend state trustee meetings and conferences. They serve one year, and receive a stipend towards their tuition and fees.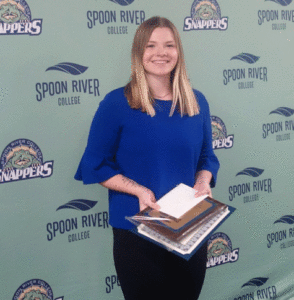 Zoey Lane, 2022-2023 Student Trustee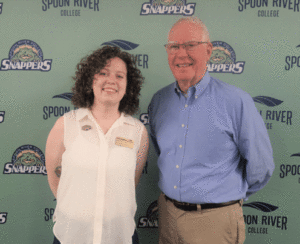 Savanah Smith-Coulter, 2023-2024 Student Trustee