11/15/2017
​
The Canton Community College/Spoon River College Alumni Association hosted their annual Alumni Association Awards Reception and Hall of Fame at the Canton Campus on Saturday, November 4.
Alumni Achievement Awards were presented to Victoria Harper, Steve Hines, Erin Wilson Laegeler, Edward McManus, Kim Newburn, and Shannon Pritchard.
Victoria Harper was a graduate of Spoon River Valley High School and focused on computer training while attending Spoon River College. She was hired to work in the Fulton County Treasurer's office in 1979 and rose to become Chief Deputy before running for the office of Fulton County Treasurer and Collector, which she served as from December 1994 to December 2015.
During her tenure, Harper was chair of the Illinois County Treasurer's Association, earned the distinction of Illinois County Treasurer of the Year, and was named the 2012 County Official of the Year by the Illinois Association of County Officials.
Now retired, Harper remains an active member of Optimist Club, TPA, and is a member of the United Methodist Church. She enjoys gardening, restoration work on her home, antiquing, and searching auctions for Victorian-era artifacts.
"Spoon River College gave me the training I needed to move forward in my career," said Harper, adding that the best advice she ever received was "Appreciate your blessings, work hard, and follow your dreams."
Steve Hines, Limestone High School graduate, attended Spoon River College before moving on to Worsham School of Mortuary Science in Wheeling, Illinois, where he graduated in 1986. Following that, he first worked for Grein Funeral Homes in Chicago before returning to Central Illinois in 1990 to work with his father, Maurie, at Oaks-Hines Funeral Home in Canton. In 2006, Oaks-Hines expanded to Elmwood after purchasing Patterson Funeral Home.
Hines is a member of the Illinois Funeral Directors Association and has served on their board for several years. He has been a consistent supporter of the Canton JFL program as a volunteer coach and groundskeeper, and has also been part of the Canton Little Giant Booster Club. He is an avid supporter of K.A.R.E. Camp, Fulton County Rehabilitation Center, and the YMCA Tumbling Tornados. Hines is a member of the American Red Cross Disaster Committee, a patron of fundraisers county-wide, and served as a member of the Canton Area Chamber of Commerce Ambassadors' Club. In 2004, he was named Business Person of the Year.
Hines became a Deputy Coroner for Fulton County in 1993, was appointed Interim Coroner in 1999, and in 2000 was elected Fulton County Coroner, a position he still holds today. He resides in Canton with wife Tish (both are avid Cub fans) and their two children, Alexandria and Samuel, both also SRC alumni.
Erin Wilson Laegeler of Rushville got her start on a college education by taking dual credit courses at Spoon River College before attending the University of Illinois Springfield. After graduating from IUS in 2012, she went to the Charlotte School of Law in North Carolina, where she was Valedictorian of the class of 2016.
Laegeler continued taking part-time classes at SRC while attending UIS. Her first college course at SRC was a psychology course – one that she credits with beginning her journey into the justice system. Her passion for justice intensified during her senior year at UIS, when she interned with the Illinois Innocence Project. Her work helped lead directly to the 2012 freeing and exoneration of Jonathan Moore, a man wrongly convicted of murder and attempted murder in 2002 in Aurora, Illinois.
Currently, Laegeler is serving as Assistant Appellate Prosecutor in the Illinois Office of the State's Attorney Appellate Prosecutor, and before that worked as a Staff Attorney for the Illinois Appellate Court's Fourth District.
Laegeler and her husband Charles (also an attorney) live near Rushville with their three dogs and one cat.  In addition to her service on the Schuyler County United Way Board, Laegeler enjoys riding four-wheelers and "lake time" at her family's vacation home in the Ozarks.
Laegeler's ultimate goal is to become an appellate judge, but she continues to reflect fondly upon her time at SRC, viewing it as a transformative period in her life and her "coming of age moment."
None of the Ed McManus family had even graduated high school, let alone college. In 1963, the Peoria native became the first, earning his diploma from Spalding High School.  Readily admitting that he was more interested in college life than in education itself, he credits his decision to attend Canton Community College partially to friends who were already attending, including a neighbor across the street. He went on to reach the top of his field and become one of the most accomplished alumni in CCC/SRC's history.
While at CCC, McManus worked at International Harvester, Sears & Roebuck, and tended bar at the Elks Lodge.  He participated in intramurals, made some lifelong friends, joined the Sigma Iota Nu fraternity (and served as its president), and met his wife Jan, a Bushnell native. They just celebrated their 50th anniversary and have four grown children: Lanie, Joe, Tim, and Katie.
McManus went on to Western Illinois University, graduating in 1973 with a degree in personnel and a minor in labor history. While at WIU, he started bagging groceries at SuperValu in Macomb, which became his entry into 39 years working in the food business.
McManus worked his way through the ranks to become President of Jewel-Osco, the largest private employer in Illinois with over 24,000 employees, and transferred to Salt Lake City to become the Chief Operating Officer for American Stores (Jewel's parent company). When the company sold, he returned to Chicago to become Senior Vice President of SuperValu, Inc., the largest wholesale food supplier in the country. At the time of his 2010 retirement, he was president and CEO of Hawk Operations and Acquisitions, leading 26 Cub Foods stores in Chicagoland.
While working and in retirement, McManus has made community involvement a priority, serving on several non-profit boards. In addition to spending time with their seven grandchildren, he and Jan enjoy traveling as much as possible. A humble man by nature, McManus continues to deflect some of the credit to his days at CCC as a turning point in his life, remembering fondly his teachers at CCC, who pushed him to be better and went the extra mile for him and his classmates.
Kim Newburn attended SRC in the early 1990s, both during and immediately after her high school years, taking mainly accounting and business management courses. She then transitioned into the work world full-time with a much clearer picture of what she wanted to do. Newburn eventually combined her love for numbers and experience in food and customer service and opened the American Grille, which she bought from Kevin Williams in 2008. With help from her husband Jon and his construction company, they expanded the restaurant in 2010, and in 2015 added a banquet room. She also opened the Bartonville American Grille in 2014.
Wanting to raise money for good causes in the Canton area, Newburn and her friend Nick Viano put their skills at providing food for the public to good use and started Chicken for Charity, one of the premier fundraising events in Fulton County estimated to have raised $100,000 during its 10-year run.
When the decision was made to end that event, Newburn met with SRC Foundation Director Colin Davis and established an endowed scholarship as a way to continue supporting worthwhile causes. Her initial donation of $14,000 will annually provide scholarships for students who will be joining the much-needed labor force.
Newburn, who was the 2011 Canton Chamber of Commerce Business of the Person of the Year, credits SRC for providing a way for her to remain in the local area while taking classes and working at the same time. She also credits Nick Viano, Ron Brown, and Kevin Williams for on-the-job training and the moral support they have provided to her over the years. She and Jon are the parents of twin Chelsea and Kaleb, now 13 years old, who both help with the family business.
Lifelong Canton resident Shannon Pritchard enrolled as a student-athlete his freshman year at Western Illinois University but soon realized he wasn't prepared for the rigorous demands of college-level academics. He returned home with a lack of direction, and that's when B.J. McCullum convinced Pritchard to enroll in classes at Spoon River College and to play basketball for him. According to Pritchard, it was one of the best decisions he ever made.
Pritchard eventually returned to WIU and earned his bachelor's degree, and he credits the individual attention from SRC faculty and sound advice from McCullum for helping him attain that goal, along with helping him achieve a position on the Dean's List.
Pritchard's love of basketball – and recognition of the impact McCullum had on students' lives, including his own – gave him the direction he needed to begin what has turned into a successful career as an athlete, coach, and teacher.
Throughout 25 years at Lewistown Junior and Senior High School, Pritchard has coached football, basketball, track, and cross country, and since the team's inception in 2006, he has coached cross country runners to 18 state medals and four school records.
Pritchard also continues his own athletic career through endurance racing, completing 43 Ironman, half-Ironman, and Marathon competitions since 2004. That includes completing 10 full Ironman races and qualifying for the 70.3 (half-Ironman) World Championships in 2008 and 2010, placing 124th in the world in his division in 2010 with a time of 4 hours and 43 minutes. He has qualified for the Olympic Distance Triathlon National Championships on numerous occasions, and has twice qualified for the Boston Marathon, competing in 2013, the year of the terrorist bombing.
Pritchard counts his biggest cheerleaders as wife Amber, sons Zachary and Luc, parents Suzanne Stenger and Ron Pritchard, and brothers Doryan Konhorst, Larry Konhorst, and Josh Pritchard. They supported him through his athletic and academic careers at Canton High School, Spoon River College, and Western Illinois University—and now into his career.  Many of his athletes have gone on to have successful collegiate athletic careers and set numerous records, and four of his former athletes have finished marathons of their own.
Distinguished Friend of SRC
The Alumni Association's Distinguished Friend of Spoon River College Award was given posthumously to State Representative Michael K. Smith.
A graduate of Canton High School and Bradley University, Smith began working as a legislative assistant for the Illinois House of Representatives in 1986, where he was assigned to the staff of the Judiciary II Criminal Law Committee. In 1992, he was a citizens' advocate for the Illinois Attorney General's Office.
Smith was elected State Representative of the 91st District in 1995, serving eight terms. He was chairman of the Elementary and Secondary Education Committee for four years and on the Appropriation Committee for Elementary and Secondary Committee and the Agriculture and Conservation Committee. He served as a member of the Environment and Energy Committee, Financial Institutions Committee, Judiciary II – Criminal Law Committee, and the Personnel and Pensions Committee. He served as the chairman and vice-chairman of the Downstate Democratic Caucus, and was also the founder and co-chairman of the Illinois Legislative Fire Services Caucus.
Smith was a Trustee Emeritus of Graham Hospital, a founding member of the 336 Highway Coalition, Past President of the Canton Area Chamber of Commerce, former board member of the American Heart Association Illinois Affiliate, Past President of the American Heart Association Fulton County Division, former board member of the Fulton-Mason Crisis Service, and Past President of the Parish Council at St. Mary's Catholic Church.
Smith received numerous awards during his time in public service, including the Glen Walters Memorial Award, Associated Fire Fighters of Illinois Legislator of the Year, Illinois Association of Fire Protection Districts Friend of Agriculture, Illinois Fertilizer and Chemical Association 1999 Legislative Award, Illinois Association of Rural Electric Co-ops Representative of the Year, Illinois ABATE Outstanding Legislator Award, Illinois Association of Fire Protection Districts Friend of Agriculture, Illinois Fertilizer and Chemical Association 1999 Legislative Award, Illinois Association of Rural Electric Co-ops Representative of the year, Illinois ABATE Outstanding Legislator Award, Illinois Education Association Legislative Service Award, Illinois Hospital Association Friend of Agriculture, and the Illinois Farm Bureau Leo Sharp Award.
Smith was a passionate advocate for education and a staunch supporter of Spoon River College, working to secure funds for SRC's new Multi-Purpose Building, which opened this year.  He was a loving husband to Donna, who has taught English and Journalism at SRC since 2002, and recent gifts from the Smith Family have helped to better student life opportunities at SRC.
Outstanding Service Award
The community involvement of Canton native Rusty Melhouse has been constant and lifelong, and his first memories of community service were selling pork chops at Mount Pisgah, his parents active in both the Odd Fellows and Rebekah Lodges.  After having the opportunity to be part of the Odd Fellows' UN Pilgrimage for Youth, he adopted the belief that if you give youth opportunities, it makes them want to return home.
After graduating from Canton High School in 1995, serving as State FFA Vice President in 1995-96, and graduating with an economics degree from the University of Illinois at Urbana-Champaign in 2000, Melhouse returned to western Illinois. He joined the Trust Department at Citizens National Bank in Macomb and was there from 2000-2007. He began his career with Edward Jones in 2007 in Macomb, building a branch there until 2013, then returned to Canton where he continues to serves the needs of his investors.
Mellhouse has also continued his community involvement through organizations such as the Chamber of Commerce, 4-H, Rotary International, and serving as the Canton Rotary Club's 2016-2017 president. Along with his Edward Jones colleagues, Melhouse sponsors and/or participates in numerous fund-raising events for local communities each year.
Melhouse served as a member of the Spoon River College Foundation Board of Directors from 2007-2010, including as chair for one year. In 2011, he left the Foundation Board to seek a position on the SRC Board of Trustees, where he served a six-year term.
"I wanted to be part of something with a visible legacy and that had a lasting impact on both others and me. SRC has a chance to make a long-term difference for many people in many communities, and my alumnus status gave me an even stronger connection to SRC," said Melhouse, who continues to be active in the Foundation's scholarship program.
Melhouse and his wife Sarah are expecting their first child in March, but he has no plans to stop advocating for the community where he was raised and that he loves.
Distinguished Retiree Award
Carol Davis, St. Louis native and Canton resident since the early 1980s, has a wide background of experiences, including in the field of education. She earned a degree in Education and Behavioral Science from the University of Missouri and Master's degrees in education from Mizzou and in theatre from Illinois State University.  She is currently a graduate student at Bethany Theological Seminary and is serving as President of Tenacious, Inc., an event-management company.
The career path Davis took has included working in the Missouri Governor's Mansion during the Kit Bond administration; serving as a legislative assistant to a Missouri state representative; teaching English and theatre at Elmwood High School and Roosevelt Magnet School for the Performing Arts; serving as Director of the Canton Area Chamber of Commerce; being artistic director for Public Theatre in Peoria; co-owning Event Managers, Inc., which operated the Madison Theatre, opened the Cornerstone, and established the CEFCU stage on the Peoria River Front; teaching career exploration at the Spoon River Academy  alternative school, serving as an administrator at Spoon River College (from which she retired in 2015); and being artistic director for the SRC Community Chorus.
The first encounter Davis had with SRC was with the Foundation when then foundation director Robert Smolich hired her and a small group to perform at fundraisers. She then took an English course to add as an endorsement for her teaching certificate. In the 1990s, she was hired by Chad Murphy to conduct workshops in the areas of business and community.  While teaching at SRA and owning EMI, she applied for and received a job as Dean of Workforce Education.  For the next 10 years, Davis served first as a Dean and then as Vice President of SRC, leading the SRC Foundation as part of her duties.
Although retired, Davis continues to work as an independent contractor with the Foundation, as artistic director of the SRC Community Chorus, and as part-time instructor at the Havana Center. She also continues to promote the advantages of Spoon River College.
In her free time, Davis enjoys theatre, baseball (cheering on the St. Louis Cardinals), and spending time with her son Colin and his wife Katey.
Athletic Hall of Fame Inductee
While growing up, lifelong Canton resident Jon Grzanich was either participating in athletics, hunting waterfowl, or fishing. He was a three-sport athlete at Canton High School, graduating in 1987.
After graduating in 1992 with a physical education degree from Murray State University, where he also enjoyed a successful baseball career, Grzanich taught and coached at Ingersoll Middle School until 1995. He also coached freshman boys' basketball at the high school for a year before working with Spoon River College as the men's assistant basketball coach.
Grzanich obtained his Master's degree in Sport and Fitness Administration/Management in 1997 from WIU, and in 1998 was named the head men's basketball coach at Spoon River College, staying in that role until 2005 and becoming SRC's all-time winningest men's basketball coach. He coached 5 All-Americans and earned 2004-2005 Collegiate Conference of Central Illinois Coach of the Year honors.  In both 2002 and 2005, he was the NJCAA Region 24 Coach of the Year. During that time, he continued as a physical education teacher at Ingersoll Middle School in Canton, and coached the high school golf team.
In 2005, Grzanich became an assistant men's basketball coach at Southeaster Community College in Iowa, returning in 2009 to become the athletic director for Canton District #66, serving as President of the Mid-Illini Conference in 2013-14, the District #66 Title IX Coordinator in 2015, and the Little Giant Hall of Fame Chairman.  Most recently under his leadership, the Little Giants' football team made a run to the IHSA 4A state semifinals in 2016, which was the best finish in school history. Grzanich also coached the Little Giants' sophomore boys' basketball team for two seasons in addition to his duties as A.D, and earned a second Master's degree (Educational Leadership and Administration) from WIU in 2011.
Earlier this year, Grzanich accepted a job with East Peoria High School as its men's basketball coach and Dean of Students. For the past two years, he has also worked as a broker for Premier Farm Realty Group, based in Pevely, Missouri.
Honorees received a plaque along with a framed print entitled "Growth" that was created by SRC art student Gillian Spiva of Canton. It included the quote by Benjamin Franklin, "Without continual growth and progress, such words as improvement, achievement, and success have no meaning."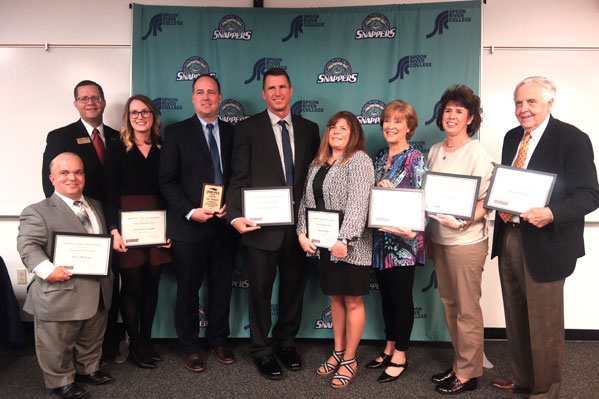 Pictured l-r are Rusty Melhouse, SRC President Curtis Oldfield, Erin Wilson Laegeler, Jon Grzanich, Shannon Pritchard, Victoria Harper, Carol Davis, Kim Newburn, and Edward McManus. Not pictured was Steve Hines.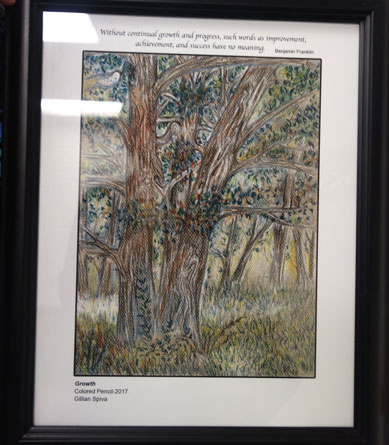 Honorees received a plaque along with a framed print entitled "Growth" that was created by SRC art student Gillian Spiva of Canton. It included the quote by Benjamin Franklin, "Without continual growth and progress, such words as improvement, achievement, and success have no meaning."